By now, you've either binged the Tiger King docuseries, or you still haven't watched and you're wondering why everyone keeps talking about an eccentric man with a mullet or a woman who many suspect killed her husband.
Tiger King features an inside look into the world of big cat breeders/zoo owners, with a specific focus on Joe Exotic, a man who once called himself the largest breeder of tigers in the country. However, Joe Exotic's zoo—the Greater Wynnewood Exotic Animal Park—also led to his downfall. In April 2018, he was found guilty of animal abuse/wildlife violations (he reportedly killed five tigers and illegally sold tiger cubs), and he was also convicted for trying to hire a hit man to kill rival, Carole Baskin.
Joe was sentenced to 22 years in prison on January 2020, and he's currently being held at the Grady County Jail in Oklahoma. But fans are curious about what happened to the zoo and the animals. Here's what to know.
Is Joe Exotic's zoo still open?
Joe Exotic's G.W. Zoo is now permanently closed to the public, but the details of the closure are still being debated. After Joe went to jail, his former colleague, Jeff Lowe, was put in charge. Lowe had partnered with Tim Stark, the owner of nonprofit organization Wildlife in Need, to keep G.W. Zoo open, but in March 2020, Refinery 29 reported that Indiana's Attorney General had filed a lawsuit against Stark and Wildlife in Need for animal abuse and misappropriation of assets.
On August 17, the USDA suspended Lowe's exhibitor license, meaning he could no longer run the zoo. Garvin County Sheriff's Office deputies and USDA officials had reportedly began investigating the zoo after receiving a report that lions were ill, with their ears covered in flies and blood.
However, Lowe has disputed the news, and he stated that he had voluntarily forfeited his USDA exhibitors license and decided to close the zoo on his own. "The very agency that has given my facility five consecutive perfect inspections, has now folded to the pressures of PETA and continue to make false accusations against me," he wrote in a Facebook post. "Suspiciously, less than 24 hours after I contacted the USDA to voluntarily forfeit my license, they notify me that they are suspending my license for 21 days for a litany of falsehoods."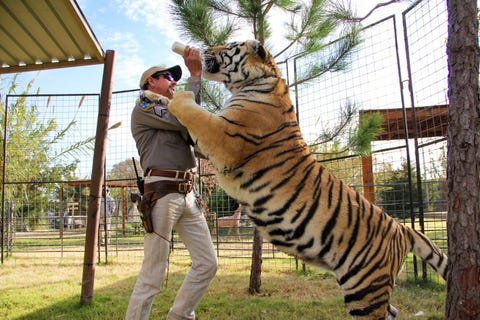 Lowe also announced that his new animal park in Thackerville, Oklahoma will be a private set for Tiger King related TV content.
Back in May 2020, ownership of the zoo was transferred to none other than Exotic's rival Carole Baskin, as a judge ruled that Exotic had fraudulently transferred ownership of the zoo to his mother in order to avoid paying Baskin a settlement in a trademark infringement lawsuit. Federal judge Scott Palk of the Western District Court of Oklahoma also ruled that Lowe had 120 days to vacate the property and hand the title of the zoo's land over to Baskin's Big Cat Rescue Corp.
Exotic responded to the ruling via his management team on Twitter, and he said the loss of his zoo was "yet another emotional blow" to his "already fragile" state. He also bizarrely and incorrectly connected the ruling to George Floyd's untimely death.
The filmmakers behind Tiger King, Eric Goode and Rebecca Chaiklin, had previously spoken to Entertainment Weekly about G.W. Zoo, and they revealed that it was not in good shape. "All I can tell you is that he [Jeff Lowe] is basically operating on fumes. No one is going now and there's no source of income, and that's been going on for a long time," Goode said. "It's not something that has just happened because of what's happening in the world today."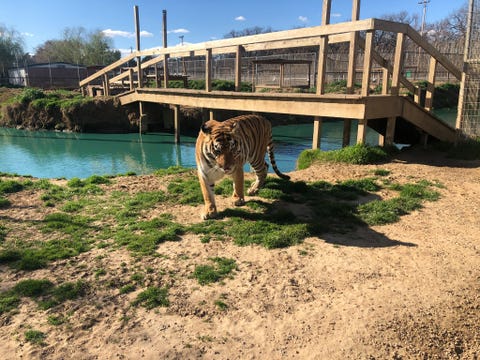 What will happen to the animals at G.W. Zoo?
There are still tigers, lions, and other big cats at the zoo, but Judge Palk has ruled that all animals must be taken off the property—however, it's unclear where they will go. Baskin also announced that she doesn't know what will happen to the animals. "I know everyone is going to bombard me with the question we all want answered; 'What about the animals?' and we don't know yet what will happen but will alert you the minute we do," she wrote on Facebook.
Additionally, Goode said that he's not sure what will happen to the zoo's animals in the future: "It's anyone's guess as to what's going to happen to them. Some will be placed, but I would suspect a lot of them will die from starvation, and probably be put down. And this is probably true for a lot of operations around the country right now that keep exotic animals, and even big zoos are struggling right now to keep their animals."
However, Lowe and his wife Lauren say that the zoo and the animals are in great shape. "Since we took over, the zoo has spent thousands upon thousands getting every animal the medical treatment and proper diets that greed robbed them of," the zoo's Facebook page posted on March 11. "We defy anyone to find a mistreated or neglected animal here. We are one of the few zoo owners in America with a spotless USDA history."
Source: Read Full Article