When it comes to food, everyone has a guilty pleasure. From pizza to macaroni and cheese, there are certain types of cuisine that each of us can't turn down — including our favorite celebrities! Find out which type of food Friends star Jennifer Aniston and beauty mogul Kim Kardashian West can't live without.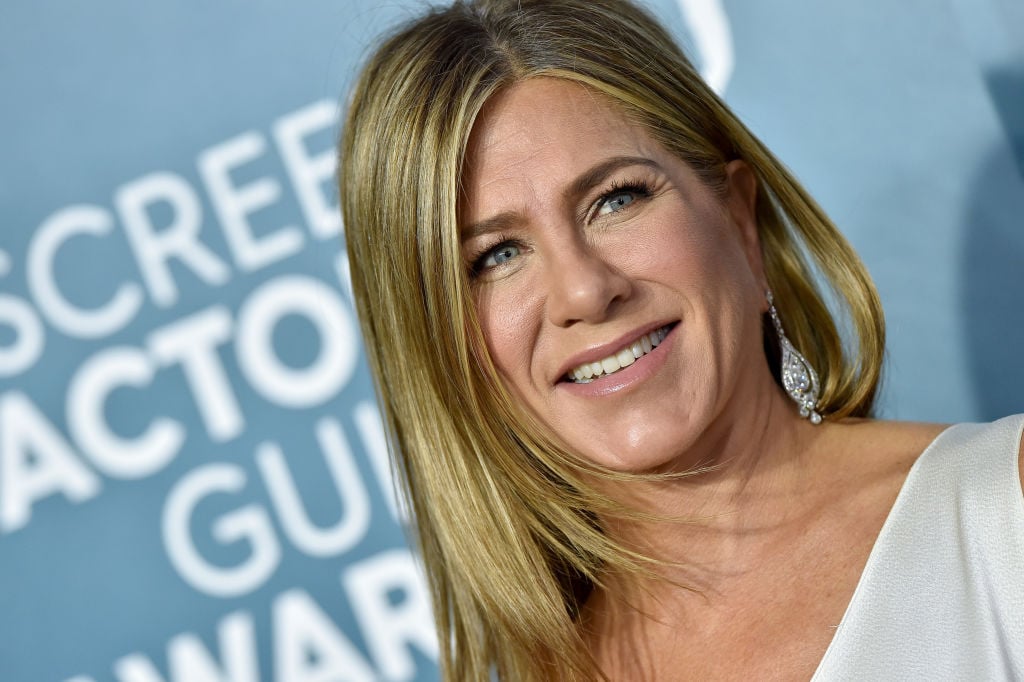 Jennifer Aniston prioritizes eating healthy
According to Insider, Aniston makes eating healthy part of her lifestyle. Instead of buying into the latest dieting trends, she prefers to consume fresh, whole foods rather than restrict what she can have. When she does indulge in those classic dishes, Aniston says she lightens them up. For instance, if she has eggs, she'll make the meal "'skinny style'" and use turkey bacon instead of regular bacon. Typically, Aniston's daily diet consists of smoothies and salads, but there is one type of cuisine Aniston says she's powerless to.
Jennifer Aniston can't turn down nachos
In a 2014 interview with Self, Aniston revealed the one food she would eat, even if it dropped onto the floor. "A nacho," Aniston shared. The Friends alum says she likes to make her own, healthier version of the Mexican chip. "I fry the chips myself," she explained. "Just take a tortilla, cut it into triangles, and throw 'em in coconut oil."
RELATED: 'Outer Banks' Star Chase Stokes Said He Would 'Shoot His Shot' With 'Friends' Jennifer Aniston
As for her favorite tortilla chip accouterment, it's "guac." The Morning Show star told Bon Appetit in 2016, "If we're trying to be good, what's the point of having chips at all?" Salsa is a close second, as Aniston puts it on everything. "I love Mexican food in general," she added.
Like Jennifer Aniston, Kim Kardashian West follows a balanced diet
The giant salads the Kardashian-Jenners often have during Keeping Up with the Kardashians are a big part of Kardashian West's diet. Contrary to popular belief, their private chef isn't the one concocting those massive salads. They're take-out from a local Calabasas eatery, Health Nut.
RELATED: 'KUWTK': We Understand Why Kourtney Kardashian Is Quitting the Show
When Kardashian West isn't eating take out, she's mostly consuming whole foods. She was formerly following a strict Atkins diet, but now Kardashian West consumes a balanced diet of carbs, vegetables, whole grains, and lean proteins.
Like Jennifer Aniston, Kim Kardashian West loves Mexican cuisine 
Though her trainer has encouraged Kardashian West to avoid processed foods, she can't help herself when it comes to guacamole and chips. Like the Friends actor, Kardashian West loves Mexican-inspired dishes. She is a fan of plant-based vegan tacos, which she raved about on her Instagram story in January 2020. Kardashian West's favorite recipe for vegan tacos was shared on Kourtney Kardashian's lifestyle site, Poosh. It calls for Beyond Meat, lots of Mexican seasonings, and plenty of fresh vegetables. 
The next time you're feeling a craving for Mexican cuisine, remember how much Aniston and Kardashian West love these foods! Whether you want some chips, guacamole, or a vegan alternative, take comfort knowing that your favorite celebs are out there thinking about the same delicious eats. 
Source: Read Full Article