Did you wake up this morning wondering what Priyanka Chopra and Nick Jonas are up to? Me neither, but here we are! Priyanka recently made an appearance on Diane Von Furstenberg's Spotify podcast, and chatted at length about how attracted she is to Nick.
"I really feel like being with someone like my husband now, there's such an incredible power, and it's so attractive to me that he has no—he, he feels empowered when he sees me empowered," she said. "Like he'll stand on a carpet on the side and watch when they're taking pictures. He'll like, want to see things I've done. Like, he feels so proud. […] We wrote like five things that we love about each other. And the first thing he said was your ambition. I've never heard a guy say that."
Okay, this is extremely sweet! Meanwhile, here's Priyanka saying Nick reminds her of her dad: "I always tell him that. I feel like my mother manifested him in my life. And you know, they always say that girls end up marrying someone who's like your father, and Nick is. He's someone who's the life of a party….He'll always have friends around him, he'll make people laugh, super thoughtful, conscientious, kind. I do feel like I ended up marrying a version of my dad."
Is now a good time to point out that Priyanka has a "Daddy's lil' girl" tattoo, or?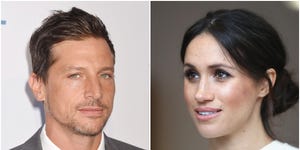 Source: Read Full Article