We need to talk about the chicken wars. If you're tired of hearing about them, you're going to have to take that up with (fast-dining) corporate.
If you haven't heard about them, in summary: chicken is suddenly everywhere. From McDonald's, Burger King, Taco Bell and Wendy's to your airport terminal stand-by's and self-described "modern burger stands", almost every tier and genre of quick-service restaurant (QSR) and its cousin is on this year's slate of hot new crispy chicken. There's even a few unexpected contenders.
Between merch drops and URL feuds, it's become one of the more surreal news phenomenons to emerge in an already surreal time. But when you peek beneath the pun-riddled surface, there are serious dimensions to consider.
HYPEBEAST spoke to a few of these restaurants and some QSR experts to see what, if anything, one can learn from a "chicken war." So, here's a few pointers to bear in mind as you sample the new fare.
Did Popeye's Start the Chicken War?
Some coverage of these so-called "chicken wars" has attributed the boom to Popeyes' wildly successful fried chicken sandwich, which debuted in August 2019. That assessment isn't entirely off-base.
"We were expecting it to be popular, but we weren't expecting the huge conversation that blew up around it," Popeyes CMO Bruno Cardinali told HYPEBEAST, adding that there was one tweet about Popeyes every second for the two weeks of the sandwich's launch that August.
The sandwich sold out within two weeks of launch and doubled Popeyes' store traffic with an average of 1,000 sandwiches purchased per store per day. It even prompted Chick-fil-A to engage in a spot of feisty corporate subtweeting, soon followed by a more direct "clap back" from Wendy's.
But the arrival of Popeye's chicken sandwich wasn't just a hit to QSR's pride — for some, it affected their bottom line. For instance, McDonald's, by its own admission, suffered a chicken sales dip due to "competitive pressure" following the sandwich's release.
Even so, this war didn't begin overnight.
Who Is Eating All This Chicken?
"Chicken consumption has been increasing almost nonstop since 2009," says Altin Kalo, a commodity analyst at Steiner Consulting. Chicken consumption in the U.S. has risen 16.6 percent per capita since 2010, he says, compared to – 2.5% decline for beef.
Some experts trace the chicken boom's origins back even further. Jean Chick, the aptly-named U.S. restaurant and food service leader at Deloitte, brings it back to the '80s, when the perception of chicken as a healthier alternative began to take hold.
And all these healthy, eager chicken-eaters have been getting their fill — just not at McDonald's, Burger King or Wendy's .
Regional chicken-focused chains like Zaxby's and Raising Caine's have experienced significant unit and sales growth in the past few years. And Chick-fil-A, despite anti-LGBTQ+ controversy,has quietly risen to the top-three most popular fast food restaurants in the U.S. Suffice it to say, it's been apparent for some time that large QSR chains ought to start "jump-starting their chicken journey."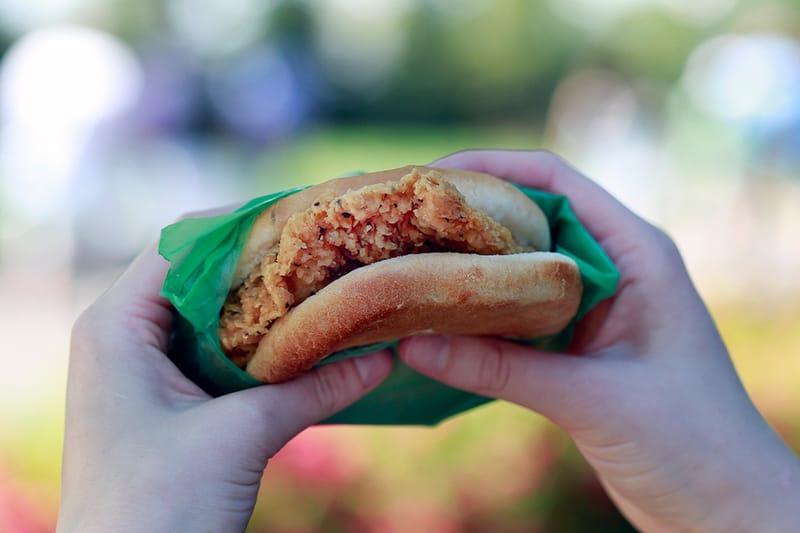 Marianna Massey/Augusta National Via Getty Images
McDonald's franchisees, for instance, had been pushing the company to develop a competitive sandwich before Popeyes' chicken sandwich debuted, after Chick-fil-A became the third-ranked chain in the US by sales in 2018.
"JFK called for a man on the moon," the National Owners Association, representing the company's franchise owners, wrote in a July 2019 letter to its peers. "Our call should be a category leading chicken sandwich."
So, the Popeyes sandwich may not have started the chicken wars, but it did very publicly reveal a power ranking: one that proved chicken could no longer be a second-thought addition to the value menu.
How Do "New Chickens" Cross the Road?
For predominantly burger QSRs like McDonald's, Burger King or Taco Bell, besting the chicken chains perhaps isn't the point of this "war."
Chick separates the competitive field into two separate groupings: wars amongst the chicken QSRs and wars amongst the burger QSRs. "The burger QSRs want to have a product that's competitive-enough with a chicken QSR. And then, as a burger QSR, I want to have the number one chicken sandwich."
The road for these relative-chicken newcomers isn't quite as straight as dropping a new chicken sandwich. A good product is the cornerstone, but "chicken credibility," a concept McDonald's USA President Joe Erlinger brought up in a presentation announcing the company's new sandwich, comes into play here.
"It's certainly trying to change that public perception. That [chicken] is a flagship item, just like their burgers.
"Every burger QSR has some sort of value menu, right? And historically, chicken was sitting on the value menu because it wasn't the primary draw for the burger QSR," Chick explains. "And so there was a perception again, with the consumers, whether it was right or not, that because the chicken sandwich was on the value menu, for some reason it wasn't as good or wasn't the same quality as one of the chicken-only providers."
"They're introducing a new product with, you know, different price points so they can kind of change that perception. And it is a different product. You know, it's made differently. It's prepared differently. But it's certainly trying to change that public perception. That it is a flagship item, just like their burgers," she says.
And for those burger chains with a more checkered history when it comes to chicken-based trust — say, a "pink slime" controversy — that road could be rough.
Where Do All the Burgers Go?
McDonald's U.S. President Joe Erlinger said that "developing a great reputation in chicken is one of our highest aspirations," during an investor presentation announcing the company's new sandwich. Strong words from a company that made its name on beef,but Chick explains the appeal.
"The global chicken market is larger than the global burger market, due to some areas that don't eat beef," Chick says. "If you are a global QSR, chicken is where you need to be."
"Chicken has more innovation runway."
There's also the novelty: "this perception of an alternative item: 'I've been eating burgers for a long time,'" as she puts it. And with chicken's "alternative" positioning, comes a more open field.
"I think the most plausible situation is chicken sandwiches are the next frontier now that burgers are established," says Jamie Howe, trends and insights lead at Datassential, citing the establishment of fast-casual burger chains Smashburger and Shack Shack, which gave fast food giants a run for their money on premium, higher-price offerings.
This is not to say new burger items have gone away, but rather that the winners and losers of that particular "war" seem to be settled — at least for now."Interesting burger builds have been trending for some time – whether premium angus beef, fancier cheeses or toppings like brisket/pulled pork," Howe says. "There will always be innovation, but those burger trends are more mature at this point.Chicken has more innovation runway."1 of 4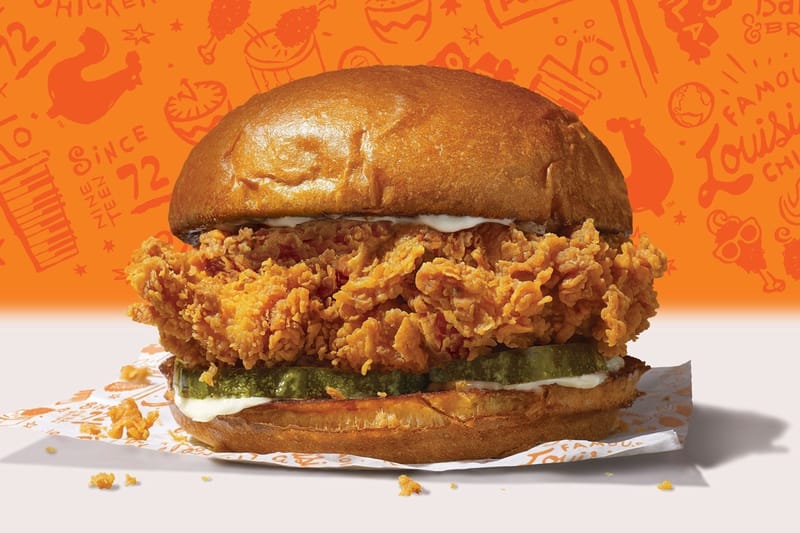 Popeyes2 of 4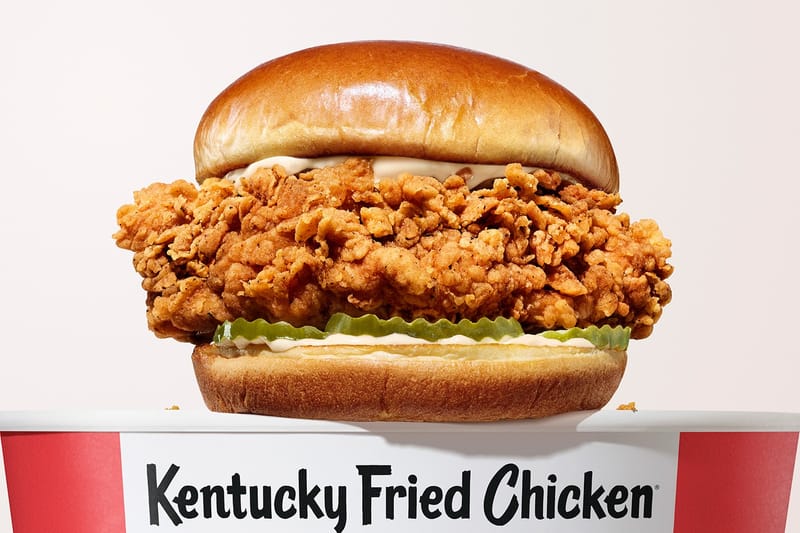 Kfc3 of 4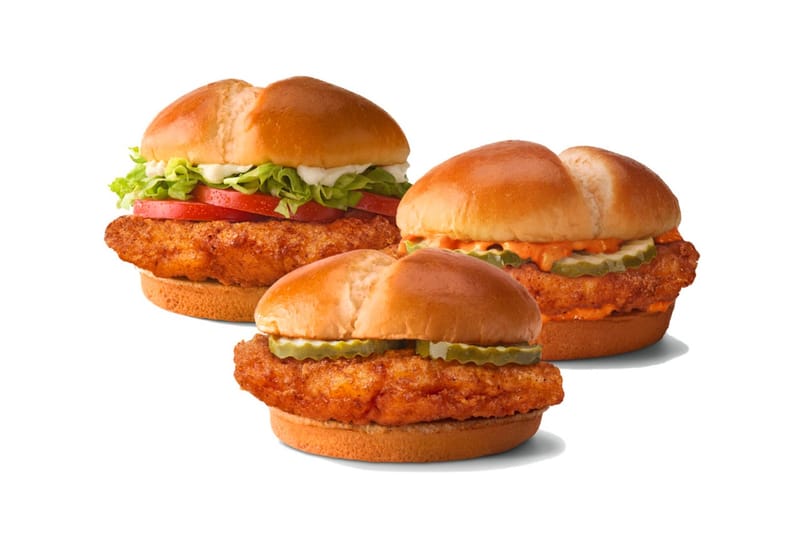 Mcdonald's4 of 4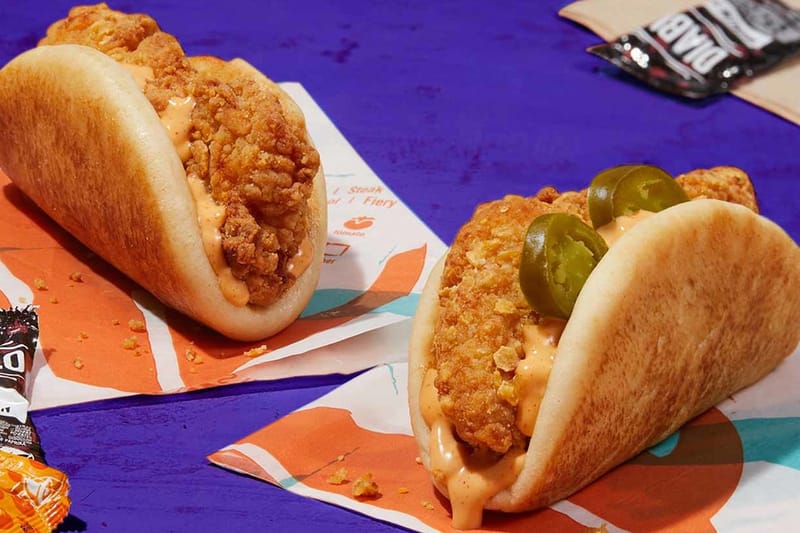 Taco Bell
A Chicken War or A Chicken Singularity?
We asked Popeyes for its point of view on the chicken landscape. "Positive reviews don't come by chance, they're anchored in the quality of the product we serve. We're flattered that so many QSR brands have since revamped their sandwiches, with some looking very similar to ours!" Cardinali said of the company's fried chicken breast sandwich, served on a brioche bun topped with pickles and a choice of mayo or spicy Cajun sauce.
Not all, to be sure. Taco Bell has gone its own way its Crispy Chicken Sandwich Taco: a taco-sandwich hybrid, served on a bready "tortilla" with jalapenos in lieu of pickles. Nonetheless, there are a few similarities to the Popeyes formula in the field.
The KFC Best Chicken Sandwich Ever has white double-breaded chicken on "a new, buttery brioche bun with thicker, crinkle-cut pickles, and choice of the Colonel's real mayo or spicy sauce" a KFC spokesperson told HYPEBEAST. The Burger King Hand-Breaded Crispy Chicken Sandwich features hand-breaded white meat "served on a toasty potato bun with crisp deli pickles and a savory signature sauce," according to a release. McDonald's, again, delivers crispy white meat chicken on a potato roll with a crinkle cut pickle for its Crispy Chicken Sandwich, available in Classic, Deluxe and a Spicy, which features a creamy Spicy Pepper Sauce.
"Crispy chicken + fluffy bun + briny topping + creamy (maybe spicy) sauce" isn't necessarily the wrong equation. It worked for Popeyes after all, and Popeyes' sandwich bears a striking, and deliberate, resemblance to Chick-fil-A's. Especially if non-chicken QSRs, as Chick pointed out, are competing amongst each other for the best sandwich, a slice of market share, then why reinvent the wheel.
A more critical view might question whether these restaurants have done enough to differentiate their offerings. Howe explained that chicken is perceived to have more innovation runaway, with less mature trends and a potentially more open field, which begs a couple questions about what we've seen so far.
Has this been "innovation"? Or are we looking at a tendency to compete by converging rather than differentiating, leaving us here: with a crispy, creamy, briny chicken singularity?
Might Taco Bell's franken-taco sandwich win amongst the newcomers by sheer force of novelty, or is it a safer bet to give customers what they know and love?
Is there still room in QSR customers' hearts and stomachs for more chicken to love?
Source: Read Full Article