You've bought the ring, you've talked to the families, and now, there's just one thing left to do: actually propose to your partner. The only thing is, you're not exactly sure how. You want it to be special without it being corny. You want them to remember it for the rest of their life, and not because you publicly humiliated them with a flash mob or jumbotron.
Alas, there's no one "right" way to propose, because everyone's unique. Your marriage proposal should be about you, and more importantly, your future fiancé(e). You want to come up with a proposal you know your partner will cherish—a proposal that shows you not only love them, but also know them.
Even though we can't tell you exactly how to pop the question, we can provide you some helpful tips—things to keep in mind when asking for their hand in marriage. With that said, here are the do's and don'ts of proposing, with advice from Connor Beaton, founder of the podcast ManTalks, which works to develop and connect high-performing, self-aware, and impactful men around the world.
The DOs of Proposing
Make it about the story.
In life, "there are very few moments that we actually slow down enough to plan with such care, detail, and forethought," Beaton says—and a proposal should be one them. That's why he suggests writing the story you want to tell after it's done, and then work back from there. Don't write a proposal story you think will impress other people; write one that's totally about you and your partner.
Know what your partner wants.
"Know your audience," Beaton says. If your partner loathes surprises, then make it clear that a formal proposal is on its way—invite them along to go engagement ring shopping, or anything else that keeps them in the loop. Are they close with their family and would appreciate if they were there for the proposal? Then invite them. "This could mean that you do some reconnaissance by asking how she thinks you would propose if it ever happened, or ask one of her close friends what she thinks you have planned," suggests Beaton.
Pay attention to details.
Beaton's heard hundreds of couples tell him their engagement story, and the main thing that always seems to matter most to both people are the small things that others wouldn't get. "The music playing in the background from the local musician she can't get enough of, to the people who are involved, to the moments before and after—these things enhance the story," he says.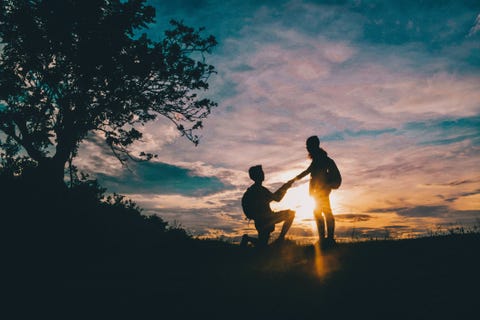 Aldrich Infantado / EyeEmGetty Images
The DON'Ts of Proposing
Be cheesy.
Beaton believes there's "a very specific brand of person who truly loves cheesy moments, and unless you are absolutely, 100% sure that your partner is that person, leave the cheese off the proposal menu." The problem is that many people have no clue what their partner would find cheesy when it comes to a proposal, Beaton says. That's why he again recommends consulting a close friend or trusted family member to guide you in the right direction.
Feel pressured.
"Families, societies, friends—most of them will have an opinion of when you should propose, how it should look, and how you should feel while you're doing it," says Beaton. While this is natural, it's not a valid reason to get engaged before you're ready. "Don't go through with a proposal simply because their family is pressuring you or your mom won't stop asking for grandchildren." It's important you're proposing because you want to, not because you feel obligated. Take your time, and make sure you're proposing when you and your partner are ready to take that next step. If you're not sure, then go ahead and wait! There's no rush.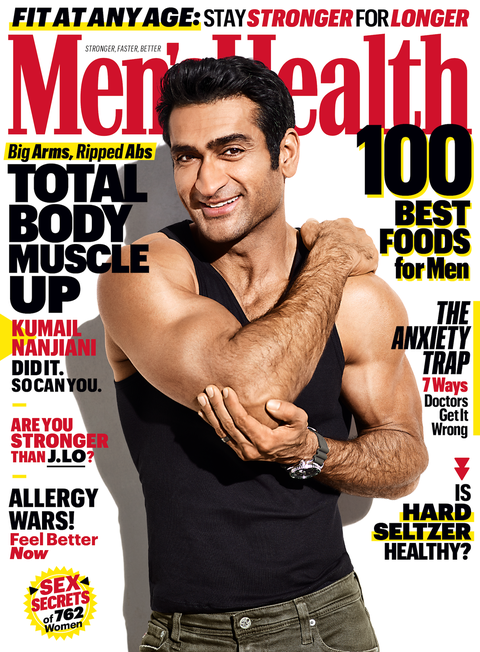 Men's Health Magazine
SUBSCRIBE HERE
Be inauthentic.
A lot of men feel so pressured to do something big and special, they end up doing something out of character. "They plan some illustrious Instagram-worthy proposal that has zero to do with their relationship, or try to make some grand gesture that isn't meaningful to their partner," Beaton says. When you propose, you should still be you. That's who your partner fell in love with, after all. "Doing something out of character or out of alignment is almost always a recipe for regret."
Worry about what could go wrong.
There's a chance that something won't go according to plan on the day of. That's life, and you just need to roll with the punches, says Beaton. Take when my brother and sister-in-law eloped on Mulholland Drive while overlooking the city of Los Angeles. Right as they were reciting their vows, a parking enforcement starting writing them up a ticket for being illegally parked. Over a decade later, they're happily married with a funny story to tell.
Source: Read Full Article