Attendance is down by between a third and almost half at some Victorian government schools this week, principals say, as anxious parents keep their children home.
State schools were issued new advice by the Department of Education and Training on Monday night, stating that the flood of precautionary absences should be approved and coded as "parent choice", with the word COVID-19 included in the comments.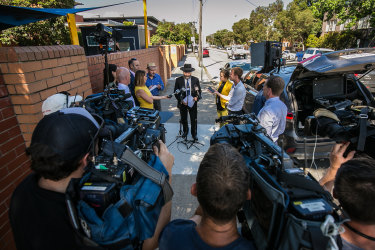 Yeshivah – Beth Rivkah Colleges principal Shimon Waronke addresses the media about the school's closure.Credit:Scott McNaughton
Independent schools also say parents have in effect forced many of them to stop face-to-face classes this week, with attendance rates plummeting almost 50 per cent on Monday.
Teachers are also anxious about being exposed to the deadly coronavirus, with some complaining that they are being employed as child minders in the middle of a health crisis.
"A lot of teachers are at an age where they have elderly parents, so they are worried about, not so much getting it but 'what if I pass it on'," said Sue Bell, president of the Victorian Association of State Secondary School Principals.
The Department of Education and Training does not monitor daily attendance rates at government schools, but primary schools have anecdotally reported non-attendance rates of between 35 and almost 50 per cent.
Anne-Marie Kliman, the president of the Victorian Primary Principals Association, said one principal had recorded 180 absent students yesterday in a school of 400 students.
Another noted a non-attendance rate of 34 per cent.
"Parents are making that choice themselves to keep their children at home," Ms Kliman said.
Government schools remain open, with the exception of Toorak Primary School, where a teacher has tested positive to the virus.
.Credit:Matt Golding
"In some cases almost half of the students are absent – not because they are ill, but because their parents are anxious about their health and wellbeing if they attend classes," Ms Green said.
"Parents are in effect voting with their feet."
Ms Green said parents who had pulled their children out of school on Monday expected online lessons to be put in place, but that schools could not provide remote learning and keep classes running at the same time.
Private schools that have suspended face-to-face classes despite having no recorded positive diagnoses include Geelong Grammar, Caulfield Grammar, Strathcona Girls Grammar, St Leonard's College, Melbourne Girls Grammar, Loreto Mandeville Hall, Lauriston Girls' School, Haileybury, Lowther Hall Anglican Grammar and Ballarat Grammar.
Ms Green said Independent Schools Victoria encouraged schools to remain open, in line with the advice of state and federal governments and health departments.
"But it's clear that many in the community find that advice unacceptable," Ms Green said.
"In this environment schools are entitled to make their own decisions – especially if normal operations are untenable because their students are not coming to school."
The Victorian government continues to advise parents to send their children to school, based on the advice of Chief Health Officer Brett Sutton.
Dr Sutton warned on Monday that cancelling classes could be counter-productive in tackling the pandemic.
But Ms Bell said pressure was building on principals as worried parents demanded answers.
"Principals are getting more emails from parents saying, 'can't you give us a definitive answer' and of course they can't, because the situation is so fluid," she said.
"Unfortunately black and white answers aren't necessarily available."
The union for government school teachers says its members are also worried, with many seeking more specific advice on how to practice social distancing in class.
"We've had some inquiries, for reasons such as people in their household might have suppressed immunity, or they may have chronic health issues themselves," Meredith Peace, the head of the Victorian branch of the Australian Education Union said.
Asked if it was helpful for parents to be pulling their children out of school, federal Education Minister Dan Tehan said the government backed its official medical advice but parents would be making decisions based on their own wants and needs.
Mr Tehan said contingency plans were being examined, including possible changes to school holidays. He also warned of complications associated with school closures, including disruptions to after-school care.
With Michael Fowler and Fergus Hunter
Updated health advice for Australians
The symptoms of coronavirus include:
Fever
Cough
Shortness of breath; and
Breathing difficulties
If you suspect you or a family member has coronavirus you should call (not visit) your GP or ring the national Coronavirus Health Information Hotline on 1800 020 080.
Source: Read Full Article