One of the most awaited premieres on Bravo is season 10 of The Real Housewives of Beverly Hills. The show had been premiering during the last weeks of the year until season 9 when it started in February. For the tenth season, February came and went and March is on its way of coming and going as well. The cable network has not even released a trailer for the new season and there had been no hard date in sight, until today.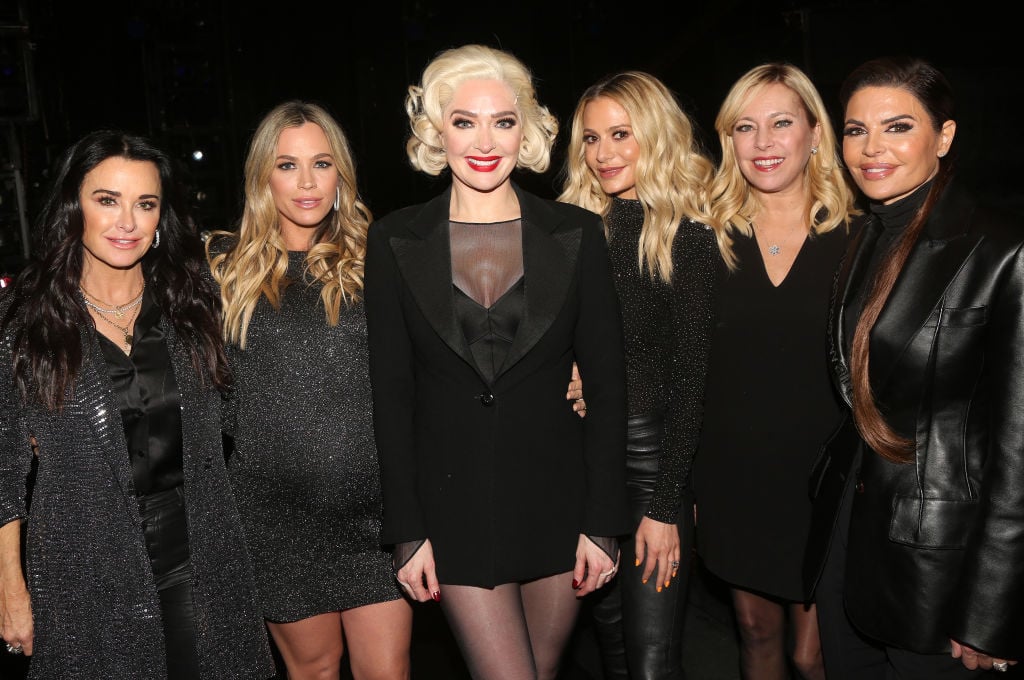 Season 10 of the reality series will be the first without Lisa Vanderpump who left after being accused of leaking stories. The cast for the upcoming season includes Kyle Richards, Teddi Mellencamp, Erika Jayne, Dorit Kemsley, Lisa Rinna, and Denise Richards. There were also two new additions to the ensemble: Sutton Stracke and Garcelle Beauvais.
A Housewives fan account was looking through the Bravo app when they came across the premiere date for the show. According to the screenshot, RHOBH will premiere on Wednesday, April 15 at 9 p.m. ET. The frame still shows Vanderpump in the cast picture but that's also because no new photos have been released.
This might be a sign that Bravo is planning on releasing the trailer soon if we're a little over a month away from the start of season 10.
Is Lisa Vanderpump missed on 'RHOBH'?
The new season of RHOBH will be the first without one of the anchors of the show, Vanderpump. However, many of its current cast members don't seem to be missing her.
Jayne is one of the Housewives that doesn't miss Vanderpump's presence at all. During an appearance on The Wendy Williams Show, she made sure to externalize that the restauranteur was replaceable, just like everyone else.
"I personally do not miss her. Here's the thing… Everyone is replaceable," Jayne told Williams. "We all know that. The show always goes on. It doesn't matter. And I think we have proof that the world keeps spinning. The Housewives will forever go on."
https://www.instagram.com/p/B9U9-C7BZMQ/
That was not the only time Jayne seemingly threw shade at Vanderpump. When the "XXpen$ive" hitmaker was a guest on Watch What Happens Live, she threw a little jab at the "Villa Rosa" resident.
"[Vanderpump] didn't seem like herself last year. I'm wondering if there's any chance that we're gonna get to see everybody at least sort of get along a little bit this year with Lisa," a caller asked.
Cohen pointed out that Vanderpump was not "on the show this year," and added, "she's unfortunately, not on the show this season."
That's when Jayne took a dig and said, "Is it unfortunate though?"
Lisa Vanderpump explains her exit
After months of not talking to the press about her exit from RHOBH, Vanderpump finally opened up and revealed the reasons that led her to quit.
"I've been in a position where the whole cast has been against me before," Vanderpump said in an interview with People. "But this time, our foundation was taking a bashing from the women, and it didn't deserve it. And suddenly, to start dealing with them all screaming and shouting at me on that first trip [to the Bahamas], I thought, 'What the hell am I doing?' And that was really it."
Vanderpump was also going through the loss of her brother which weighed heavily in her life. However, don't feel bad for the rich lady, she's just doing great managing her restaurants and as a producer of Vanderpump Rules.
Source: Read Full Article