If Walt Disney's heart was making a wish for a box office hit, his dream came true with Cinderella.
The 1950 classic, which opened in theaters 70 years ago today, was Walt Disney Productions' biggest hit in 13 years, since Snow White and the Seven Dwarfs set a new course for feature-length animated storytelling in 1937, and the returns helped finance the studio's animated and live action movies throughout the decade. Adjusted for inflation, Cinderella has a lifetime gross of $532.4 million.
But while the Disney cartoon version was generations of fans' first exposure to the story of the beautiful young maiden whose wicked stepmother and stepsisters have made her a servant in her own home, the crux of the story is many millennia old, dating back as far as between 7 BC-23 AD, when the Greek tale of Rhodopis—a slave who ends up marrying the king of Egypt—is said to have been first shared.
While the foot-maiming version envisioned by the Brothers Grimm remains a fairy tale mainstay for those who prefer their sweet served with a bit of spice, most of the more contemporary retellings hew most closely to French author Charles Perrault's "Cendrillon," first published in Paris as part of a story collection in 1697—hence the chateau that has fallen into disrepair and Cinderella being referred to as mademoiselle in the Disney version, which doesn't actually feature any French accents.
For a tale close to as old as time, the meat of the "Cinderella story" has had remarkable longevity, playing out for centuries onstage in plays, operas, ballets and, of course, in movies and on television.
The first Cinderella film based on Perrault's fairy tale was made in 1899, a six-minute production by French director Georges Méliès (the auteur played by Ben Kingsley in Martin Scorsese's Hugo) that was screened at music halls and fairgrounds. And that was only the beginning.
In honor of the beloved Disney version, take a look at 100 years of onscreen iterations of the ever-optimistic heroine who gets everything she ever dreamed of with the help of a little Bibbidi-Bobbidi-Boo:
Paramount Pictures
Mary Pickford
The first actress to be known widely as "America's Sweetheart" starred in 1914's silent Cinderella opposite her real-life husband, Owen Moore, as Prince Charming. They divorced in 1920 after a rocky nine years together and Pickford (whose real name was Gladys Smith) married Douglas Fairbanks just a few weeks later.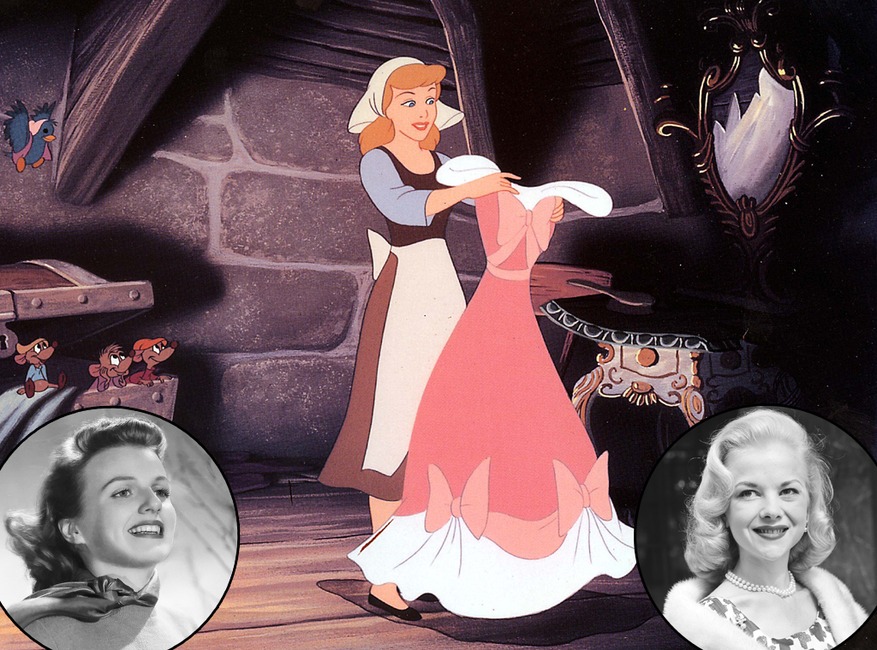 Getty Images; Disney/Moviestore/Shutterstock
Helene Stanley & Ilene Woods
Stanley was the live model and provided the titular speaking voice for the titular heroine and Woods did the singing in the 1950 Disney animated classic, Cinderella.
Stanley was also the live model for Princess Aurora in Sleeping Beauty and Anita in 101 Dalmatians, after which she retired from show business. (In an entirely unrelated note, she was briefly married to Johnny Stampanato, a bodyguard and enforcer for L.A. gangster Mickey Cohen. Stampanato then dated Lana Turner and was stabbed to death in 1958 by Turner's teenage daughter, Cheryl Crane. Cheryl claimed self-defense, saying Stampanato had been attacking her mother when she intervened, and it was ruled a justifiable homicide.)
Woods was friends with Cinderella songwriters Mack David and Jerry Livingston, and they asked if she would record a few of the songs they had composed for the film. Walt Disney heard the demos and offered her the job. She was named a Disney Legend in 2003.
"I loved doing the character," Woods told the Houston Chronicle in 2005. "When my dad saw the movie, he said he saw me in the facial expressions, hand movements and mannerisms. Marc Davis, who animated [my character], would watch me record and picked up on things."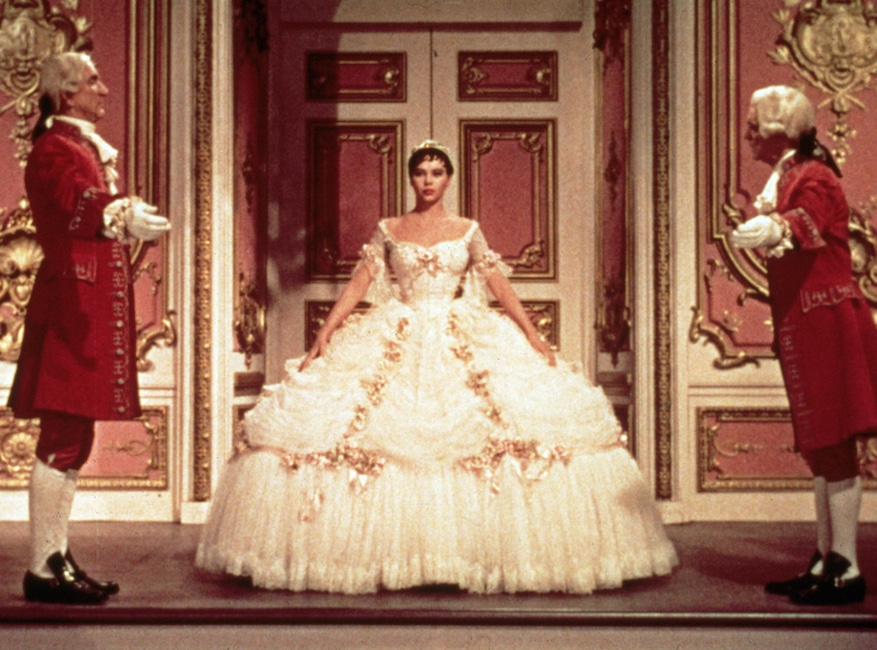 MGM
Leslie Caron
Coming off an Oscar nomination for Lili, the French-American triple threat danced, sang and balanced a gigantic ballgown as Ella—nicknamed "Cinderella" by some cruel townies—in the 1955 film The Glass Slipper. She may not get much respect in the duchy, but when her childhood playmate Prince Charles (played by Elizabeth Taylor's husband at the time, Michael Wilding) returns to town from studying abroad and spots this fascinating unknown woman at his welcome-home ball… let's just say, Cinderella gets the last laugh.
Article continues below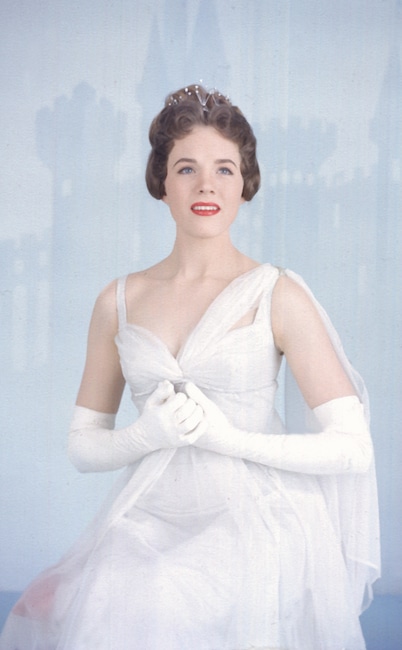 Gordon Parks/The LIFE Picture Collection via Getty Images
Julie Andrews
Before Mary Poppins, Andrews' first Disney dance was in the 1957 TV movie Rodgers and Hammerstein's Cinderella, featuring the duo's only book and lyrics written for TV (minus "Loneliness of Evening," originally written for but never included in South Pacific) before the production became a long-running stage musical (though there wasn't a Broadway adaptation until 2013).
More than 100 million people watched the original live broadcast on CBS.
Asked whom she felt had especially aided her legendary career along the way, Andrews told Backstage.com in 2011, "Lerner and Loewe, and Moss Hart. Also, Rodgers and Hammerstein were extremely generous and kind and wrote the televised Cinderella musical for me.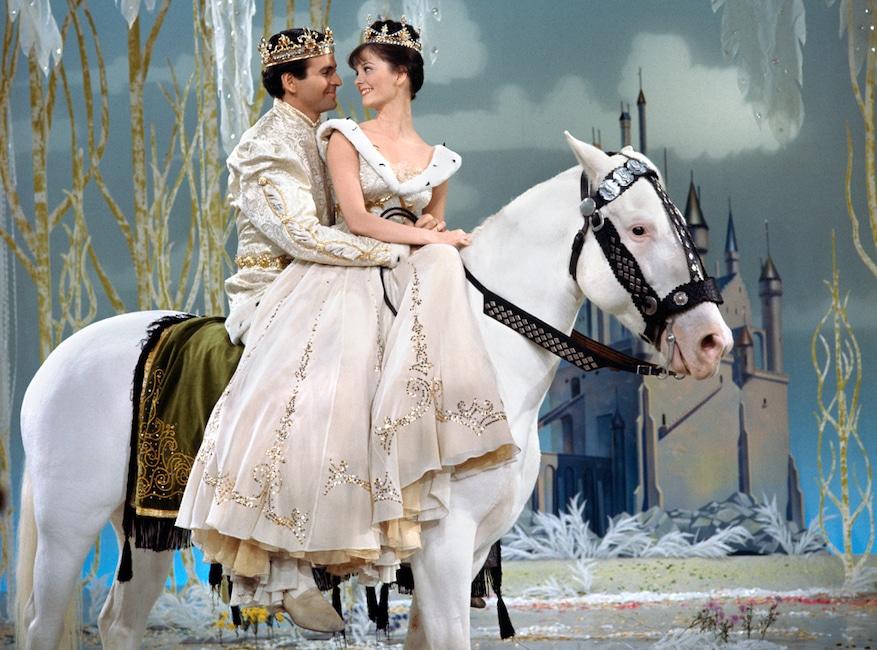 CBS via Getty Images
Lesley Ann Warren
The 1965 TV movie—set to the Rodgers and Hammerstein score—was rebroadcast eight times and the 18-year-old Warren became the go-to Cinderella for a new generation.
"I actually never get tired of talking about it, because it was such a magnificent part of my life and…such a huge blessed sort of launching pad, you know, to my career," the Clue and Victor Victoria actress told Parade in 2017.
"It was an unbelievable experience for me," Warren continued. "I mean, just to be working that intimately with people like Richard Rodgers, and Ginger Rogers, Walter Pidgeon, Jo Van Fleet…it was really a dream, you know. It was hard work and in those days they didn't have the union rules, so sometimes we worked 23 hours out of 24— literally."
Paradine Prods/Kobal/Shutterstock
Gemma Craven
Richard and Robert Sherman—the sibling duo who, incidentally, wrote the Academy Award-winning music for Mary Poppins—were also nominated for the score from the 1976 British film The Slipper and the Rose: The Story of Cinderella. The film ends more suspensefully than some with Prince Edward (Richard Chamberlain) almost marrying someone else until Cinderella shows up, conveniently already in a wedding dress.
Talking in hindsight about her heartthrob co-star Chamberlain being gay, something he was not public about until he published his 2003 memoir Shattered Love, Craven told Ireland's Independent in 2006 that they never discussed his personal life. "All I know is that Richard and I got on like a house on fire and he is a wonderful actor to work with and we had lots of laughs," she said. "Though I did think when we met 'God, this is Dr Kildare!' and he was gorgeous!"
Article continues below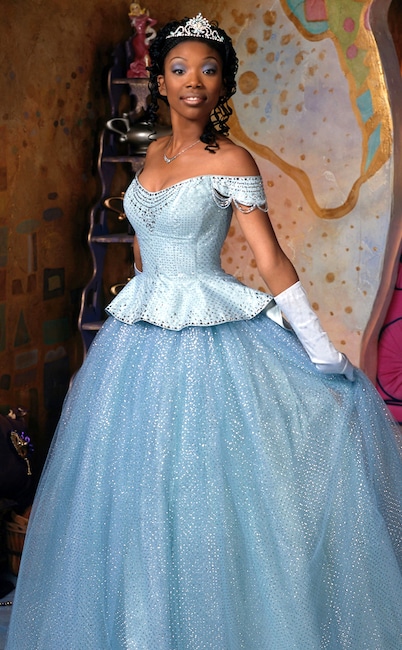 WALT DISNEY TELEVISION/ZUMA
Brandy Norwood
Whitney Houston was an executive producer and played Fairy Godmother in this 1997 Wonderful World of Disney remake, the first major take on any of the Disney classics with a black actress in the leading princess role. An estimated 23 million households tuned in for the ABC event.
"I grew up watching the Lesley Ann version of Cinderella," executive producer Debra Martin Chase told Shondaland for the Emmy-winning TV movie's 20th anniversary in 2017. "That was an annual major event in my house. So I was enthralled with the idea of doing a new Cinderella, and having her be of color. I knew how much it would have meant to me as a little girl."
Brandy remembered thinking it was "surreal" that Houston even knew who she was, let alone that she called her at her parents' house to see if she wanted to play Cinderella. The producers "broke it down for me. 'This is gonna be a multicultural cast. Trust us,'" she said. "I thought, Wow, that's different. I didn't know what to think at first because I hadn't seen it done. I was just happy to be Cinderella. I never felt like we were 'breaking the rules,' but I knew that we were doing something different."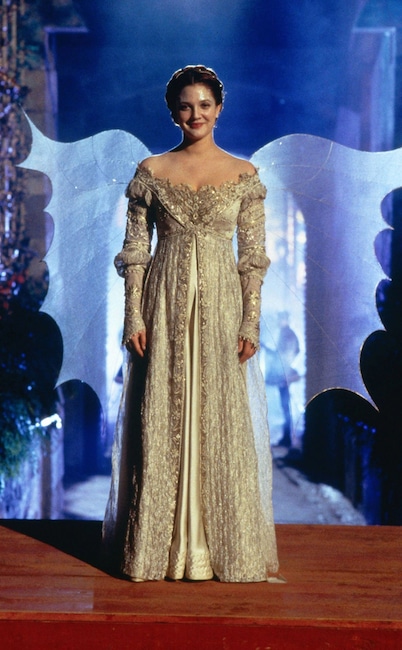 20TH CENTURY FOX / ZUMA
Drew Barrymore
1998's Ever After: A Cinderella Story puts Drew Barrymore's Danielle smack in the middle of the Renaissance—Leonardo da Vinci paints her portrait!—and costume designer Jenny Beavan delivered the luxurious looks to match. And this Cinderella figure also sports wings, representing how Danielle—and Drew—sweeps herself off of her own feet. (Though a handsome prince is involved.)
"[I wanted to] re-start my career and start a company with [producing partner Nancy Juvonen], and be a young woman," Barrymore recalled to Elle in 2016. "I had been a kid and an awkward teenager as we all are, and I was at that place in my life where I was truly asking, What have I learned? What do I think? Who am I going to be? And then I came across this story that said, 'The Grimm brothers had it all wrong, that Cinderella rescued herself.' And I thought, 'Rescue yourself? That's who I want to be, that's who I need to be in this life.'"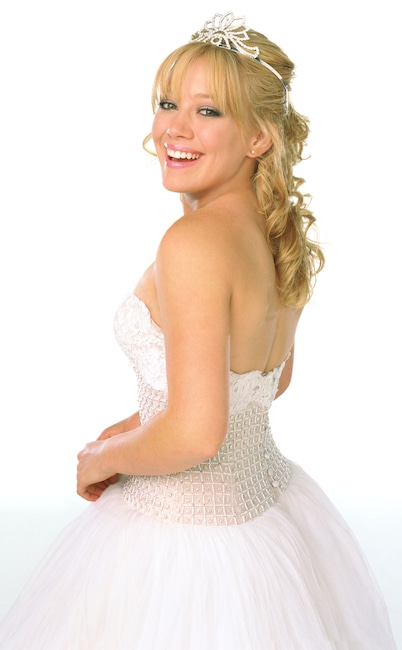 Andrew Eccles/Warner Bros/Kobal/Shutterstock
Hilary Duff
The sleeper hit A Cinderella Story from 2004 transplants the classic tale into the modern-day San Fernando Valley and Duff's Sam Montgomery toils away at the family diner that her wicked stepmother has been running since her father died. Disobeying orders to skip the school dance, Sam attends wearing a ballgown and a mask—and catches the eye of popular hunk Austin Ames, played by Chad Michael Murray.
Duff admired Prince Charming in real life, too, telling Cosmopolitan.com in 2016, "I definitely had a crush on him. We had a few kissing scenes in the movie and I remember feeling pretty nervous about that, but then we became friends and I wasn't so nervous anymore."
Article continues below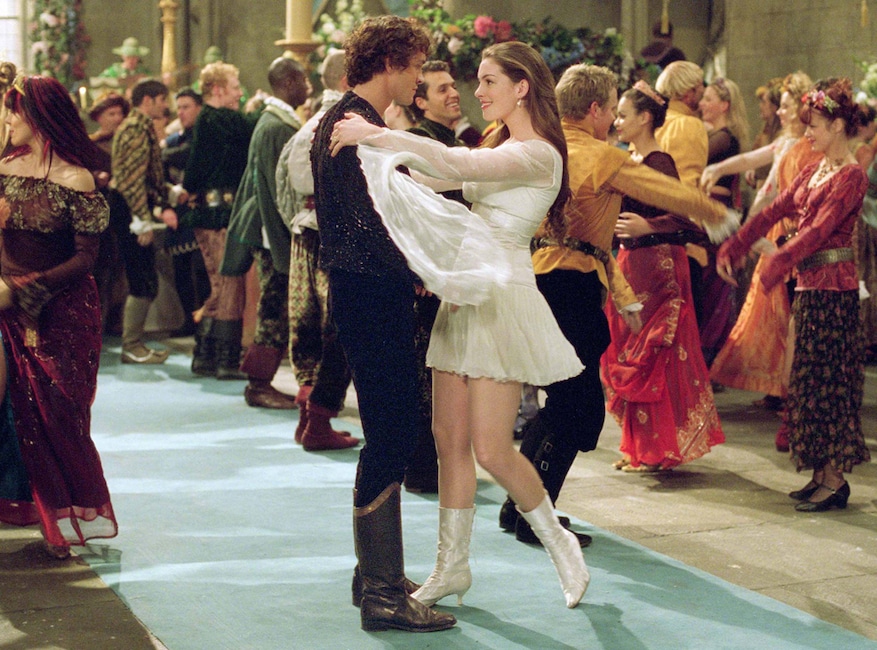 Moviestore/Shutterstock
Anne Hathaway
Based on the 1997 book Ella Enchanted, this 2004 take on the Cinderella story adds some more creatures and starts with little Ella cursed with the inability to disobey (or, her fairy godmother gives her the "gift of obedience")—which, in turn, makes her prime fodder to be taken advantage of by a nasty stepmother, played with snide perfection by Absolutely Fabulous star Joanna Lumley.
Hathaway worked with a mime to learn how to make her body look as if Ella was responding to other people's commands without giving them a second thought.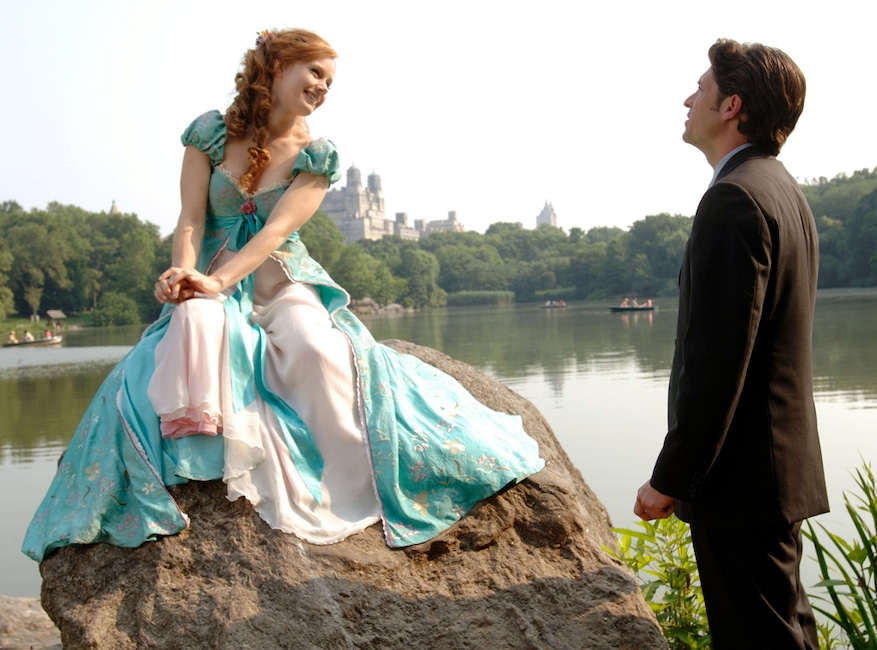 Barry Wetcher/Disney Enterprises/Kobal/Shutterstock
Amy Adams
The endlessly charming Enchanted, from 2007, was a Disney-produced send-up of Disney tropes, in which Adams' princess-to-be Giselle—a Cinderella-Aurora-Ariel hybrid—is pushed down a well by her royal fiancé's evil stepmother (Susan Sarandon) and pops up in modern-day New York. She ends up preferring divorce attorney Robert (Patrick Dempsey) to the nice enough but narcissistic Prince Edward (James Marsden), who then sweeps Robert's fiancée, Nancy (Idina Menzel), off her feet. In keeping with the best of Disney tradition, three of Alan Menken and Stephen Schwartz's original songs were nominated for Oscars.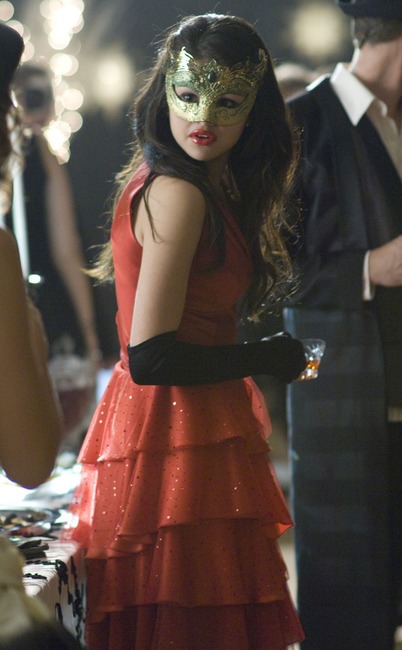 Cs2/Kobal/Shutterstock
Selena Gomez
2008's Another Cinderella Story, the straight-to-DVD sequel to A Cinderella Story, starred up-and-coming Disney princess Selena Gomez, who was at the time making a name for herself on Wizards of Waverly Place. High school senior Mary Santiago dreams of being a dancer, but standing in her way is her legal guardian, washed-up singer Dominique Blatt (Jane Lynch) and Dominique's wicked daughters, Brie and Brit Blatt. Bleh!
Article continues below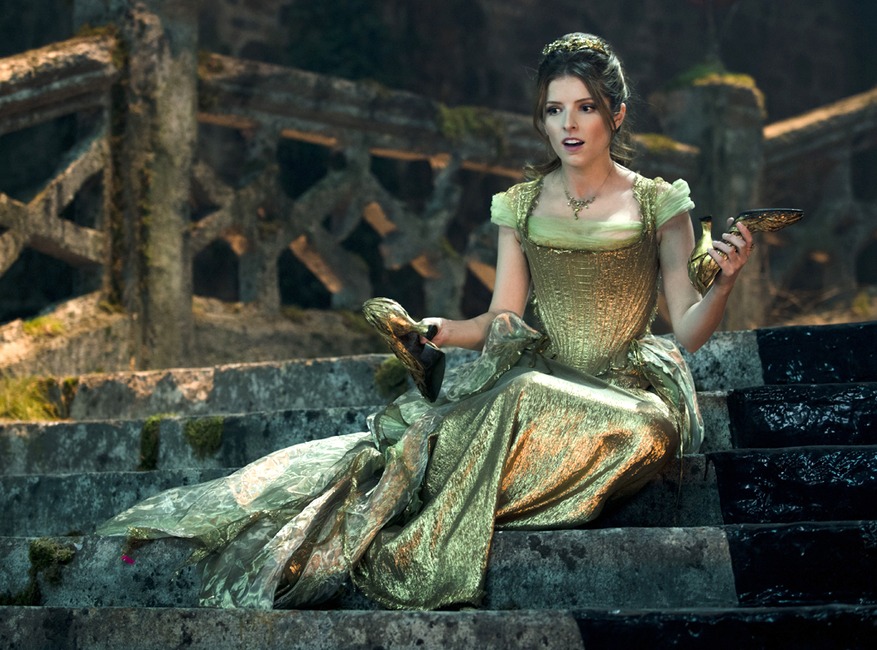 Peter Mountain/Walt Disney/Kobal/Shutterstock
Anna Kendrick
She was a pitch-perfect fractured fairy tale version of Cinderella in the 2014 big-screen adaptation of the Stephen Sondheim musical Into the Woods, which is not so much about happily ever after as it is about seizing on bits of happiness amid the grimmer moments of life.
"To be honest, I never thought that much about Cinderella," Kendrick told the Denver Post at the time. "The Disney character kind of scared me as a kid. There was a real darkness to it that kind of freaked me out. But Sondheim's Cinderella, which is taken largely from the Brothers Grimm, is really complicated."
In this version, "it's really fascinating to explore what drives a woman to be torn between abuse and neglect and a prince and a palace," she explained. "Because she's still not sure if the prince and the palace are going to make her happy. There's a real question of why she's so hesitant and wants to run away. It's not because the dress disappears at midnight. It's because she doesn't know what she wants."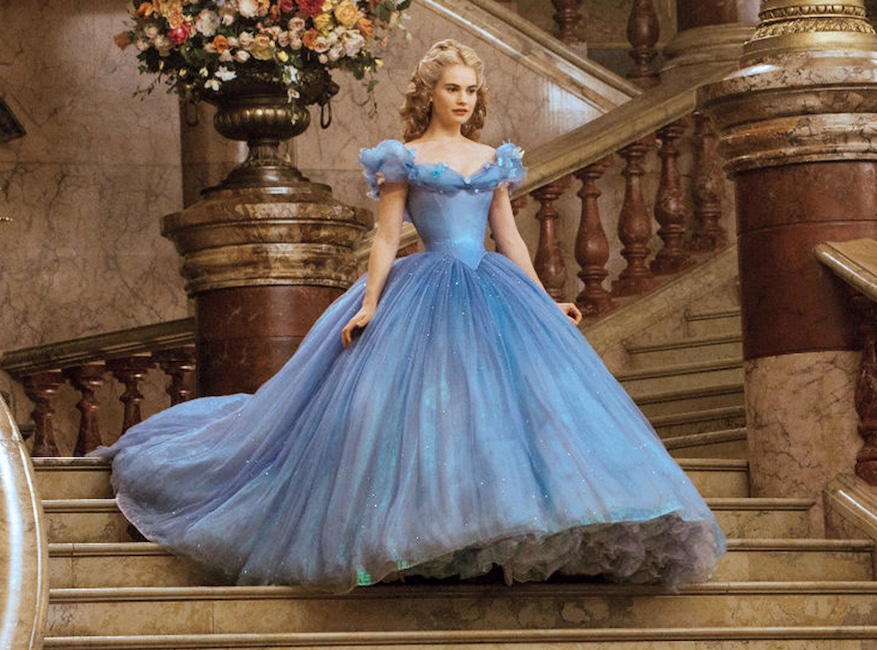 Moviestore/Shutterstock
Lily James
Kenneth Branagh directed 2015's lavish Cinderella, one of the live-action Disney remakes that's all the rage these days, starring James as the titular heroine, Richard Madden as Kit the prince and Cate Blanchett as wicked stepmother Lady Tremaine. The film made $542 million worldwide, Branagh's biggest box office haul to date as a director.
"I auditioned some 7,000 times for Cinderella," James jokingly recalled to The Hindu in 2020. But she did remember being unsure of herself, so much so that she was the one asking for retakes. "I didn't believe in myself. I couldn't see what [Branagh] could see… I still struggle with it… I think it's to do with control and, as an actor, you have to let go of that control… Being self-critical is almost like vanity."
And still, 120 years after Méliès ventured into multi-scene filmmaking for the first time with his Cinderella, there are at least two more in the works right now.
Andrew Lloyd Webber's Cinderella, billed as a modern musical update on the story, is set to open this summer in London's West End, while Kay Cannon is directing a star-studded musical comedy version for the screen, with Camila Cabelloas Cinderella and Billy Porter in talks to play Fairy Godmother.
Source: Read Full Article