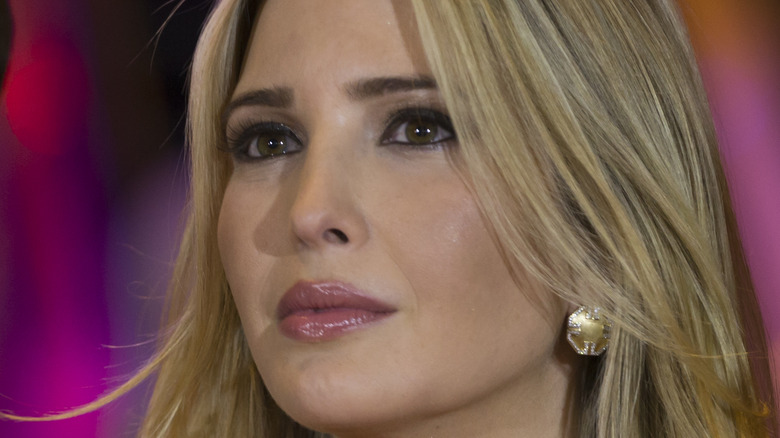 A ticket to the Met Gala is one of the most prestigious invites any Hollywood A-lister or international superstar could receive. Founded and run by Vogue editor Anna Wintour, the event serves as a fundraiser for the Metropolitan Museum of Art's Costume Institute, and marks the opening of their annual fashion exhibit (via Vogue). This year's event, which took place on September 13, 2021, boasted an impressive list of guests from hosts Timothée Chalamet, Billie Eilish, Amanda Gorman, and Naomi Osaka, to the Biebers, Rihanna, and Lil Nas X.
A notable exclusion from the guest list were some faces that the American public has been used to seeing in the limelight — whether for better or worse — over the past five years: the Trump family. Donald Trump began attending the Met Gala in the 1980s with then-wife Ivana Trump, and later with Melania Trump and his daughter Ivanka Trump for several years (via Vanity Fair).
Ivanka may have been included in her father's ban from the Met Gala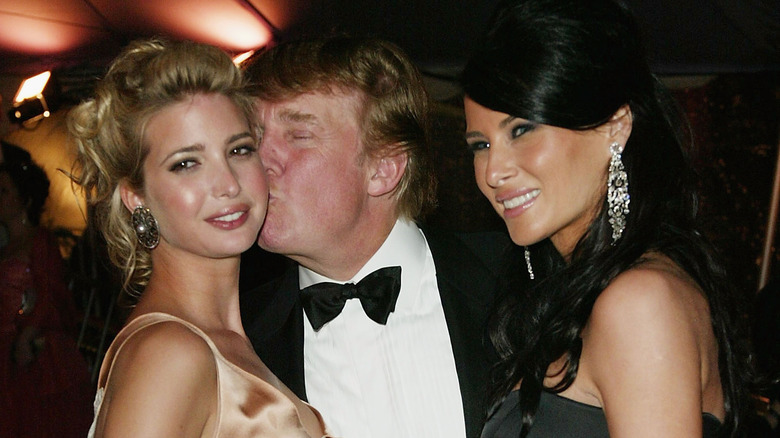 Anna Wintour very publicly admitted on a 2017 segment of "The Late Late Show with James Corden" that if she were to not invite any celebrity back to the Met Gala it would be Donald Trump (via Vanity Fair). While she did answer this while being faced with a bowl of pickled pigs feet on "Spill Your Guts or Fill Your Guts," it appears she really meant it, as none of the Trumps have attended the event since 2016.
This year, the social media trolls came down hard on Ivanka Trump and her husband Jared Kushner for their exclusion from the guest list. The Lincoln Project, an American PAC formed in 2019 by former and present members of the Republican party, took to their Twitter last night to give Ivanka and Kushner some helpful advice following their snub (via Indy100). The video posted by The Lincoln Project shows a screen recording of an iPhone searching for various pieces of a disguise, including a fake nose and mustache. The caption reads, "EXCLUSIVE: We have obtained a leaked screen-recording of @IvankaTrump preparing for tonight's #MetGala."
The account also tweeted a photo of Kim Kardashian — who wore a head to toe black ensemble covering her entire face — and wrote the caption, "Nice try, @IvankaTrump."
Source: Read Full Article