John Grisham is among the authors who have had their work adapted for the big screen. 
Grisham, 65, first garnered attention as a writer of legal thrillers with his debut novel, A Time to Kill, which hit shelves in 1988. The lawyer-turned-author has come a long way since then, having sold more than 300 million copies of the 44 books and counting he's had published.
Today, he's among the richest authors in the world with an estimated net worth of $350 million. Ahead, we break down TK books by the Arkansas-born author that have been made into movies and how to watch them. 
1. 'The Firm' 
The Firm is about Mitch McDeer (Tom Cruise) who graduates from Harvard Law School fifth in his class. Choosing to work for a law firm based in the South, Mitch soon realizes the offer he so gladly accepted turned out to be too good to be true. The law firm works with organized crime and Mitch is caught between his bosses and the FBI who have blackmailed him into helping them build a case against his new employer.
Critics gave the film, which premiered in 1993, a 75% score on Rotten Tomatoes while audiences awarded it a rating of 64%. 
The Firm is available to stream on Amazon Prime Video. Watch a TV adaption of the same book on Hulu with a subscription. The 2012 program also called, The Firm, ended after one season on NBC. 
2. 'A Time to Kill'
1996's A Time to Kill has a star-studded cast including Matthew McConaughey, Sandra Bullock, and Samuel L. Jackson. The film follows Jake Brigance (McConaughey) as he defends his black client, Carl Lee Hailey (Jackson), who has been accused of murdering the two white men who raped his daughter. This one's on our list of McConaughey movies everyone should watch.
Audiences gave it an 85% on Rotten Tomatoes while critics awarded it a 66%.Rent A Time to Kill for $3.99 on Amazon Prime Video.
3. 'The Pelican Brief'
Denzel Washing and Julia Roberts star in 1996's The Pelican Brief where a law student (Roberts) happens upon a conspiracy that puts her and everyone around her in danger.
Critics gave the film a 53% on Rotten Tomatoes while audiences liked the film a little more to give it a score of 61%. Watch The Pelican Brief for $3.99 on Amazon Prime Video.
4. 'The Rainmaker'
A young Matt Damon stars in 1997's The Rainmaker as a lawyer who takes on a fraudulent insurance company. This one has some of the strongest reviews with critics on Rotten Tomatoes giving it a 83% and audiences awarding it a slightly lower grade with 77%.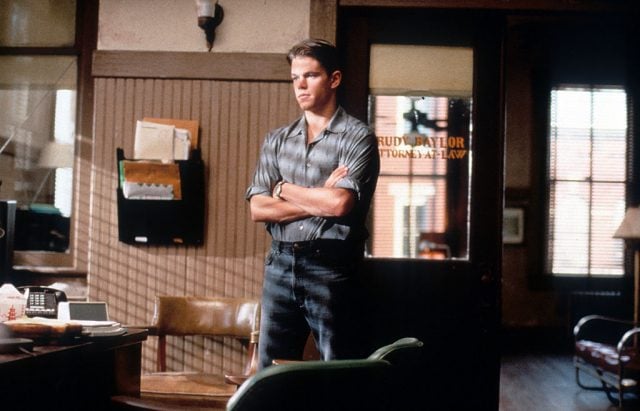 Watch The Rainmaker for free with Amazon Prime. It has more than 2,000 reviews and 4.5 stars. The film is also available to watch on Netflix. 
5. 'Christmas with the Kranks'
Tim Allen and Jamie Lee Curtis star in 2004's Christmas with the Kranks based on Grisham's 2001 novel Skipping Christmas. A departure from Grisham's usual legal thrillers, Christmas with the Kranks follows a couple as they decide to skip the holiday in favor of going on a tropical vacation after their daughter tells them she won't be coming home. At the last minute, their daughter changes her plans so they have to rush to cover up the fact they were skipping Christmas. 
Christmas with the Kranks tanked at the box office and its score on Rotten Tomatoes reflect it: the film got a measly 5% rating from critics and a 38% from viewers. Rent Christmas with the Kranks for $2.99 on Amazon Prime Video. 
Source: Read Full Article