There is literally nothing that Charli D'Amelio can do wrong right now. Homegirl has 47.1 million followers on TikTok, 13.9 million followers on Instagram, and those numbers will only continue to grow as her platform does. So it's kinda no wonder that she *might* have plans to influence the masses through actual television. I mean, the only thing that's different is the size of the screen, right?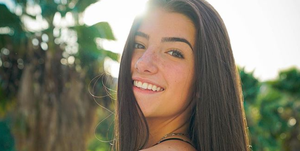 In an interview with Entertainment Tonight, Charli talked about the possibility of having a reality show with her sister Dixie, and her parents, Heidi and Marc D'Amelio. Though she didn't confirm it, Charli didn't outright deny either!
"I mean, definitely something that would be super fun," she said. "For people to kind of see what goes on when we're not just posting TikToks. I feel like no one really gets to see, but, people are always talking about how they think our family dynamic is pretty cool."
Charli also recognized that fans would probably love to see her and her family on television. "They love when we go live, so that's super fun," she added. "I mean, it's really whatever helps us showcase what we're really like. Because people only really see us, like, dancing or lip syncing to songs. So, it's really fun. Maybe try some new things."
@dixiedamelio @marcdamelio @heididamelio dc @africanhoney
Thankfully, Charli's parents were able to give a more concrete answer. When asked if they're working on a project, Marc gave a firm "yes," saying that the finer details just need to be worked out. "We're figuring out all that stuff right now," he said. "This has all kinda happened all really quickly. But we think if we're gonna do it, we'll go all in with it. And like Charli said, let everyone get to know us a little bit more closely. So, we're in the process of working it out right now."
Fingers crossed for a pilot episode in 2021!
Source: Read Full Article