Grey's Anatomy fans have been waiting for Amelia Shepherd (Caterina Scorsone) and Atticus "Link" Lincoln's (Chris Carmack) baby ever since the neurosurgeon revealed she was pregnant. After a potential paternity mixup and a brief break, the couple finally received their happy moment in the season 16 finale. But what did Amelia and Link name their baby on Grey's Anatomy? Many fans want the Shondaland series to pay homage to Derek Shepherd (Patrick Dempsey). But it doesn't look like that's going to happen.
[Spoiler alert: Grey's Anatomy Season 16 finale.]
Did Amelia and Link name their baby in the 'Grey's Anatomy' Season 16 finale?
We're going to have to hold on until Grey's Anatomy Season 17 to find out the name of Amelia and Link's baby. However, the finale on April 9 highlighted a birth with minimal complications.
In the Grey's Anatomy Season 16 finale — titled "Put on a Happy Face" — Amelia went into labor — for real this time. In a turn of events, Link was pulled away to perform surgery on Richard Webber (James Pickens Jr.). However, Miranda Bailey (Caterina Scorsone) stayed with Amelia to hold her hand.
Eventually, the neurosurgeon realized Bailey recently experienced a miscarriage. Amelia apologized for forgetting and insisted she didn't have to sit through the birth. But Bailey remained by Amelia's side, noting it would go against the rules of pregnancy club to leave.
Later, we learned Link didn't make back in time. So Bailey was Amelia's only support during the birth. That said, it was enough. As Amelia started freaking out, Bailey climbed into the hospital bed with her friend, calling back to what George did in season 2.
At the end of the episode, Link entered Amelia's hospital room. He thought it was another false alarm. But then a baby cried out. "Atticus Lincoln, come meet your son," Bailey said, handing the newborn to Link. He walked over to Amelia and they smiled. It was the perfect moment. Nevertheless, the child's name wasn't revealed.
'Grey's Anatomy' showrunner reveals Amelia and Link didn't name their baby Derek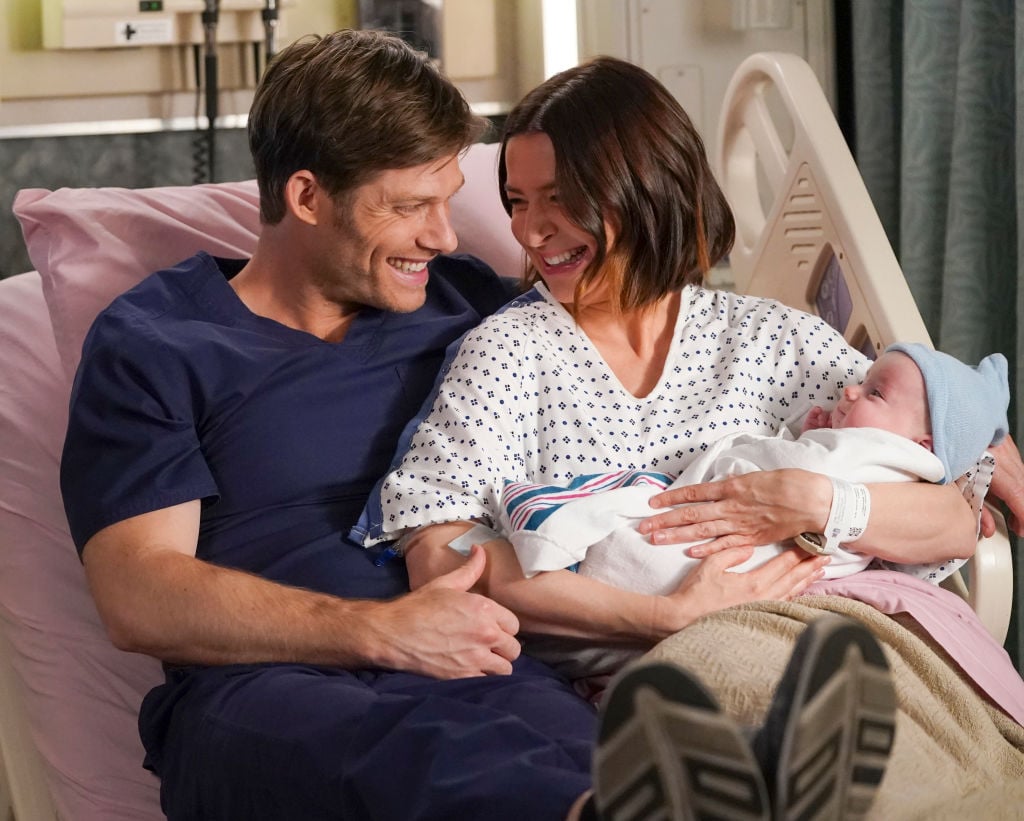 After the Grey's Anatomy Season 16 finale introduced Amelia and Link's newborn son, viewers wondered what the baby's name would be. On social media, many fans theorized the Grey Sloan Memorial doctors would call him Derek after Amelia's late brother. But in an interview with The Hollywood Reporter, showrunner Krista Vernoff confirmed that won't happen.
"I will tell you that the name is not Derek," Vernoff said.
She also explained Amelia has a good reason for this. As you may know, Grey's Anatomy Season 16 was cut by four episodes. Production was shut down due to the coronavirus (COVID-19) pandemic. But regardless, the 21st episode was changed to the season finale and Amelia was originally supposed to have a line about naming her son Derek in the next episode.
"I'll give you that the line in 1622 about Derek was that Link pitched it and Amelia said, 'I don't want to cry every time I look at my baby, so no.' But the name is meaningful, yes," Vernoff said.
So when will we finally find out what Amelia and Link named their son? Venoff teased we'll receive answers at the start of the new season.
"The name the baby storyline was in episode 22 [which won't be produced]. I suspect it will play in the [season 17] premiere," Vernoff said.
Read more: 'Grey's Anatomy': Krista Vernoff Reveals Why Alex Karev Didn't Die in Season 16
Source: Read Full Article