Let's face it: The Grey's Anatomy fandom will collectively collapse on Thursday, March 5. In the episode, titled "Leave a Light On," the Shondaland drama plans to bid farewell to Alex Karev (Justin Chambers). After 16 seasons and 15 years of extraordinary character development, it's difficult to imagine how Alex will leave Grey Sloan Memorial, Jo Karev (Camilla Luddington), and Meredith Grey (Ellen Pompeo). But where the surgeon's storyline stands now — and as much as it kills us to say it — Alex's death on Grey's Anatomy may be the best way for the character to exit the series for good.
[Spoiler alert: Grey's Anatomy Season 16.] 
What happened to Alex in 'Grey's Anatomy' Season 16?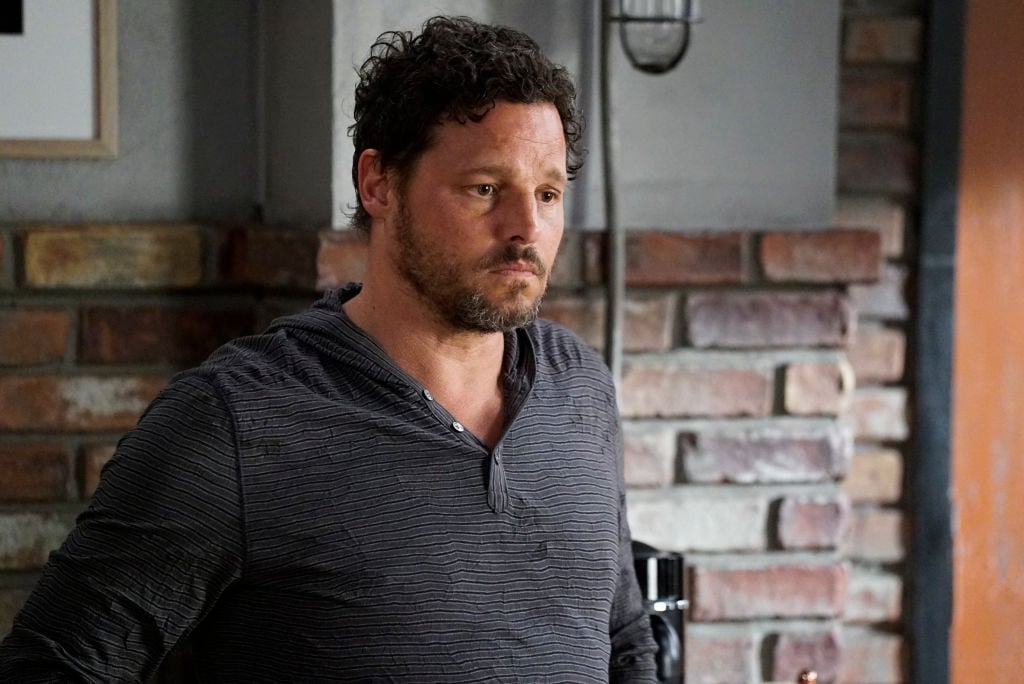 On Jan. 10, Chambers' announced his departure from Grey's Anatomy. The news was released midway through the 16th season, prior to the winter premiere on Jan. 23. Meanwhile, multiple publications reported Chambers' last episode was the 350th special, which previously aired on Nov. 14. The actor did not appear in the midseason finale.
Upon the Grey's Anatomy Season 16 winter premiere, many fans anticipated hearing about Alex's big exit. However, the character's absence was overlooked, as the doctors at Grey Sloan simply noted Alex was in Iowa to take care of his mother. So of course, everyone at the hospital believed he would return. But as the ABC series continued, Jo became more suspicious.
In Grey's Anatomy Season 16, Episode 13 — titled "Save the Last Dance for Me" — Jo told Amelia (Caterina Scorsone) that Alex hasn't been returning her calls. Jo then suggested Alex could be getting revenge on her for when she needed some time following the events in season 15. However, she acknowledged Alex would never do such a thing.
Then in the next episode — titled "A Diagnosis" — Jo met a patient who was cheating on her husband, even after said husband jumped in front of a bear for her. And as a result, Jo's fears escalated. She wondered whether Alex went off with an ex, leaving her behind after "one thing led to another."
When Jo brought up her fears to Link (Chris Carmack) and Owen (Kevin McKidd), they reminded her Alex wouldn't screw up their marriage like that. But as Alex continued to ghost Jo, she called him and left a devastating voicemail.
"Hey Alex, I need you to call me, I need to hear your voice. I need to know what's going on," Jo said. "Whatever it is, I need to know. I want to know. Because I would jump in front of a bear for you, Alex. Please call me."
Finally, in Grey's Anatomy Season 16, Episode 15 — titled "Snowblind" — we got closer to uncovering what happened to Alex. At the end of the episode, Link stopped by Jo's house. Then Jo — who had been anxiously waiting for Alex to come back — reached a breaking point.
Jo broke down in tears. She told Link she called Alex's mom for some answers. But all it led to was more heartache. Apparently, Alex never went to Iowa.
"He left me," Jo cried. "I think he woke up one day and felt the need to escape his life and me. I called his mom. He wasn't there, he'd never been there. And I can't breathe."
All the while, Alex has also been ignoring messages his person, Meredith.
'Grey's Anatomy' fans think Alex will die in season 16, episode 16
After Jo's revelation in Grey's Anatomy Season 16, many fans expressed their anger on social media. After years of developing the couple's supportive relationship, it was hard to see how Alex could leave Jo high and dry, just like what happened with Izzie (Katherine Heigl).
"The fact that they are still trying to make it seem as if alex left jo is pissing me tf off," a fan wrote on Twitter. "Any true Grey's person knows that alex would literally NEVER."
"What the f*ck is going on in this show?" another fan tweeted. "Why are they messing up Alex's character like this!! Alex would never leave Jo especially like that!!"
Clearly, viewers are confused by Alex's sudden change in Grey's Anatomy. Throughout the course of 16 seasons, he went from "Evil Spawn" to devoted husband and friend. If Alex really left Jo and Meredith without saying a word, it would truly feel like a slap in the face. And this is precisely why Alex's death is the only way to go.
"Shonda Rhimes must be killing Alex Karev off bc we didn't just witness his amazing character development over the past 16 seasons for him to just leave Jo who isn't crazy and treats him right and 'his person' Meredith f*cking Grey," a fan wrote on Twitter.
"Listen…I don't want Alex to die," another fan wrote. "BUT if Alex doesn't die and he actually just ghosted Meredith and his wife then I'm gonna stop watching the show bc that's a waste of 16 seasons of character development."
Now we don't believe Alex deserves to die on Grey's Anatomy. He deserves to continue living out his life and dreams in peace. He deserves a happily ever after with Jo. But without Chambers returning to film more episodes, we're working with what we've been given. A tragic ending that leads to the celebration of Alex's growth would be far better than the alternative. And quite frankly, we did not watch Alex blossom into the man he is today just to regress back to season 1.
Read more: 'Grey's Anatomy': Is Richard Webber Leaving? Fans Are Worried About the Character's Future
Source: Read Full Article