The new season of Little People, Big World is approaching quickly, and fans are excited to see what happens next for the Roloff family. Last season, we saw huge changes for fan-favorite Amy Roloff. Matt and Amy divorced years ago, and Amy finally made the decision to sell her half of Roloff Farms to Matt. Now, Matt and his long-term girlfriend, Caryn Chandler, still reside on the farm and have another home in Surprise, Arizona.
Matt and Chandler appear to have a loving relationship — and fans predict wedding bells will be ringing in the future. But we know Amy has had a negative view of Chandler in the past. As for the Roloff kids, Matt told the podcast First Class Fatherhood that they're very accepting of his girlfriend. Here's what he noted.
Amy Roloff appeared to have major issues with Caryn Chandler on 'Little People, Big World'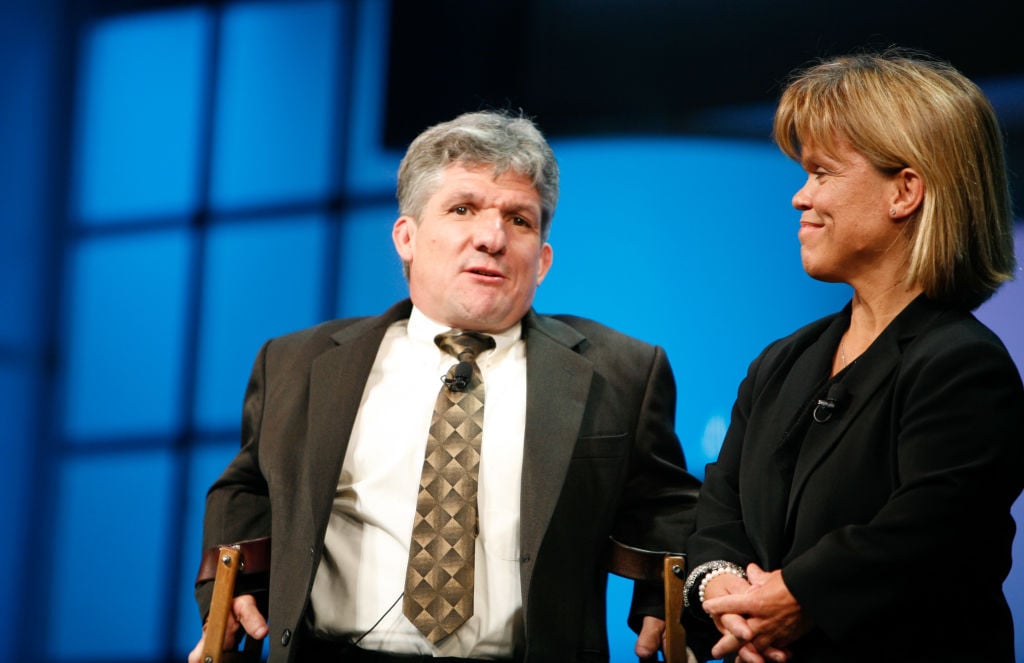 Amy had issues with Chandler ever since she and Matt started officially dating. Chandler was a Roloff Farms employee prior to the romance. And Amy told the show cameras that Chandler's presence at family events frequently made her uncomfortable.
"Caryn has been part of pumpkin season and managing it for a long time and does a great job," Amy explained on the show. "But knowing the relationship between Matt and Caryn, and to know that they're dating … You know, to work beside Caryn, it's not healthy for me." Amy also mentioned that she has a lot of "past baggage" with Chandler that's difficult not to bring up now.
In Amy's memoir, A Little Me, she gave even more insight into her relationship with Matt. And she alluded that Matt and Chandler were involved in a cheating scandal.
"I saw messages, pictures, and other things that should not have been shared between people who just worked together and were still married to other people. I was devastated," Amy explained.
Chandler has become quite close with the Roloff grandchildren
Despite Amy's disapproval, Chandler has developed relationships with Matt and Amy's grandkids. Zach and Tori Roloff have a 2-year-old son, Jackson, and a newborn, Lilah. And Jeremy and Audrey Roloff also have a daughter and newborn son, Ember and Bode. Chandler frequently posts photos and videos of her connecting with the littlest Roloffs, as they even have their own name for her: Cha Cha.
"Once again totally 110% engaged in her babysitting duties," Matt captioned a photo of Chandler playing with Jackson and Ember from July 2019. "Jackson discovered my secret toy drawer today stuffed full of collectibles…and other fun surprises that caryn loaded in."
"You can tell Caryn loves the kids," one follower commented on the photo.
Matt Roloff says his kids 'really accept' Chandler
While Chandler has a close relationship with the Roloff grandkids, how about Matt and Amy's adult children? There's evidence to suggest that Chandler spends plenty of time with Jeremy and Zach. As for Molly and Jacob, we're not sure — though these two stepped out of the public eye completely, so it's hard to tell.
Matt told the First Class Fatherhood podcast everything we're wondering.
"No wedding bells planned right yet. I hope one day that there are and probably will be. Caryn and I are very close. We enjoy each other's company and friendship immensely," Matt verified. "Fortunately, my kids seem to accept Caryn very, very well. We've spent a lot of time together. … The grandkids love spending time with her, and she loves spending time. … I appreciate the way she involves herself and gets me involved."
We're excited to see how Chandler and Matt's relationship continues to play out on the upcoming season of LPBW starting March 31!
Check out Showbiz Cheat Sheet on Facebook!
Source: Read Full Article