A Million Little Things Season 2 Episode 18, 'Mothers & Daughters,' revolves heavily around maternal themes. Still, the show touches on other storylines for a well-rounded episode which propels the season forward nicely. In it, some new details are revealed, and a few questions are posed. Here are points to ponder going into the season finale.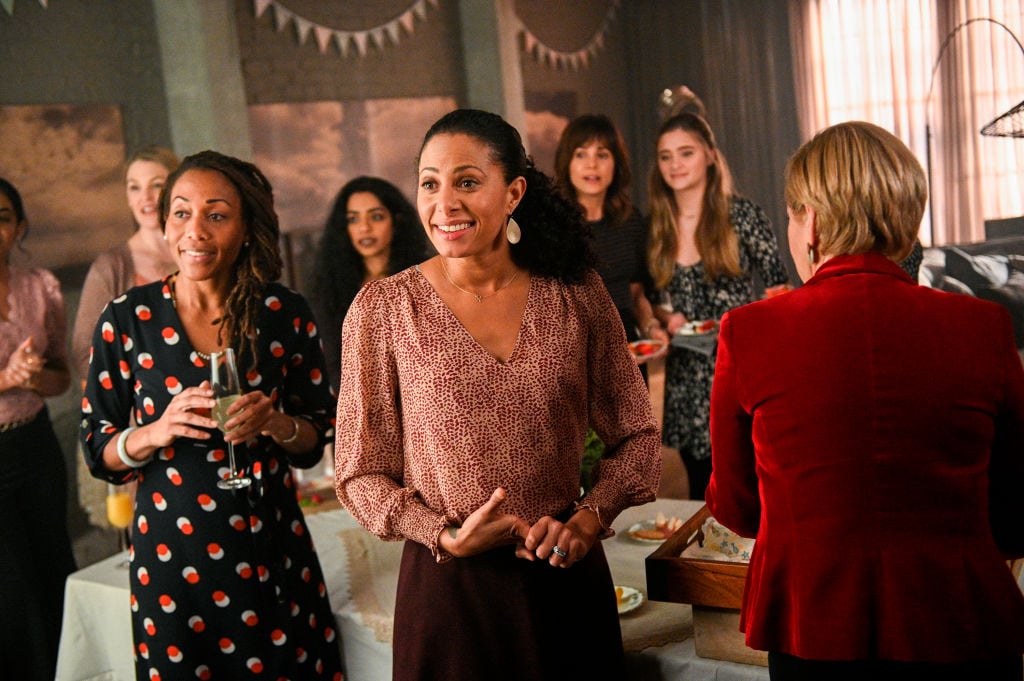 Will Regina and Rome's dreams come true?
Regina's baby shower is the central event in AMillion Little Things Season 2 Episode 18. In anunconventional twist, Eve shows up to celebrate Regina becoming the adoptive motherto her baby.
Rome crashes the party and shares his doubts about his paternal abilities with Regina. Eve overhears and reassures him saying, "Being terrified? I'm pretty sure that's part of being a parent, which is why you're going to be a great one."
Eve gives the Howards the baby's gender results and leaves them with a final goodbye. The young birth mother realizes she cannot be in their lives anymore. Although she loves Rome and Regina, the intimate bond is becoming too difficult for her.
In her emotional state, could Eve have a last-minute change of heart about the adoption? Or, as the promo for the next episode hints, could a medical emergency crush the Howard's dreams?
Will Delilah's new fling become a father figure to herkids?
The Widow Dixon has released her inner cougar by spendingromantic time with a man named Miles. When Sophie overhears some ladies dishingabout Delilah's hot date, the teen becomes upset.
It would appear that Delilah's previous paternity debacletaught her some hard lessons about lying, so she comes clean to her eldest daughterabout the nature of her relationship. Sophie softens and, by the end of the episode,is seen encouraging her mother to keep things going with the new romance.
With Sophie in the loop about Miles, is it just a matter oftime before she and Danny come face to face with their mom's new beau? And ifso, will he stick around for a while?
Do Gary and Darcy have a chance?
In 'Mothers & Daughters,' Maggie chats with her mom onthe phone as she packs for Oxford. After blowing off her mother's questionsabout Gary, the shrink plays a record that gives her a case of the warm andfuzzies about her ex. With fond memories of Gary in mind, she takes a cab tohis place, presumably to tell him how she feels.
As luck would have it, Mags shows up just in time to seeGary and Darcy head inside his place. The disheartened therapist backs off andhightails it back home. Will Maggie take this as a sign that she should make afresh start with the Oxford fellowship? Do Gary and Darcy have a shot at love? Timewill tell what is next for this love triangle.
What memory is Eddie repressing?
Previously on A Million Little Things, Eddie'ssister, Lindsay, brought up memories of a trauma they experienced asyoungsters. This episode treats viewers to a flashback of said trauma.
In the flashback, the siblings are partying at a lake houseand Eddie is seen flirting with a girl named Alex. Alcohol and drugs are in themix, which, no doubt, contribute to Eddie's patchy memory of what happenednext. He passed out only to be awakened by Lindsay, with Alex nowhere to befound, until the next morning when her lifeless body was recovered from thelake.
In the present, Eddie cannot fathom renewing his vows with Katherinewith secrets about his past looming. So, he decides to take a road trip up tothe lake to jog his memory. Ed drags Lindsay along to help him put the piecestogether, but when they arrive, nothing rings a bell.
Darkness falls, and just before the siblings head home, Alex'sdad shows up to shoo them away, but not before casting some angry blame and throwingsome serious shade at Eddie. With his wedding redo coming up, will he opt towalk down the aisle carrying 20 years of baggage, or will he let Katherine inon the problem at hand?
Read more – Season Finale Preview: 'A Million Little Things' Season 2 Episode 19 'Til Death Do Us Part'
Source: Read Full Article