Who doesn't love a great Real Housewives cast trip?
They've become a staple of the franchise, occurring at least once per season per city, if not more–and for good reason. When else are you going to have the opportunity to ensure every cast member is in the same place at the same time? Add in the fact that the destinations are usually picturesque foreign cities where the ladies have no one else to spend time with by their cast mates and you've got the perfect recipe for maximum drama.
Over on The Real Housewives of Atlanta, the ladies' trip to Greece got underway last week when the group arrived in Athens. While their first night was light on the drama, we know that things are about to kick into hyperdrive as tensions between NeNe Leakes and Kenya Moore that have been simmering all season long finally boil over. In the preview of Sunday, March 15's episode, we even see NeNe spit in Kenya's face! So, you know this one's gonna be a doozy.
While we wait and see how the RHOA trip will shake out, we thought it would be a good time to countdown the 25 most dramatic trips the Bravo franchise has ever taken us on. Will the Southern belles' getaway manage to rival these wild and crazy holidays? Stay tuned…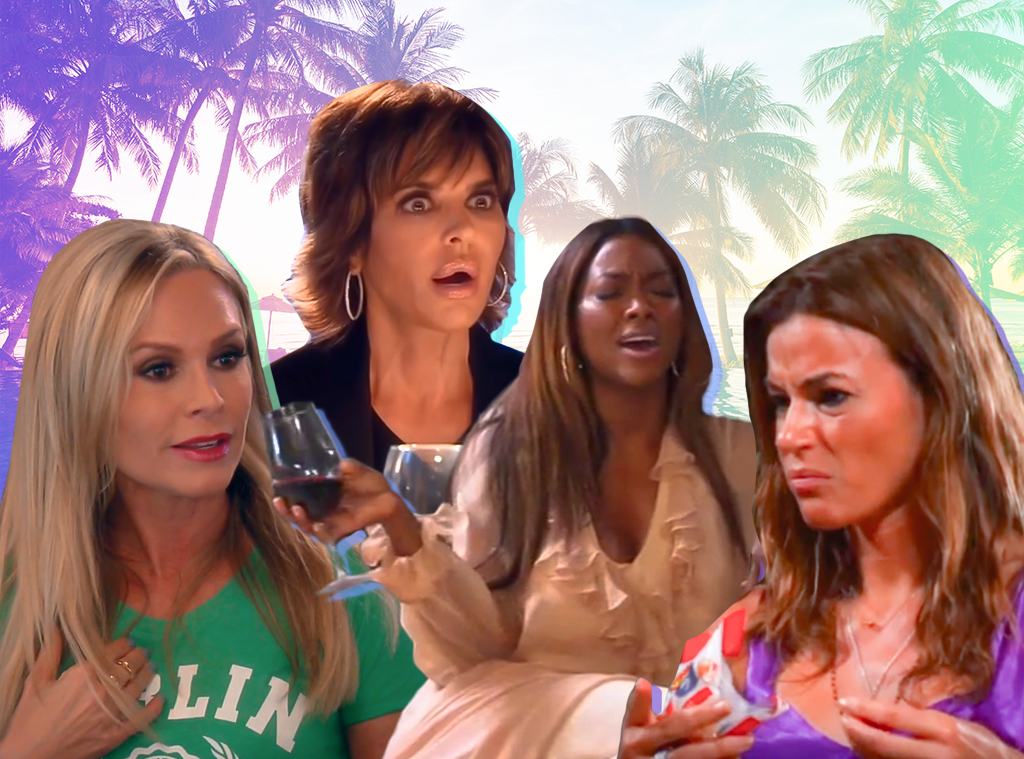 Bravo/E! Illustration
In the meantime, check out our ranking below!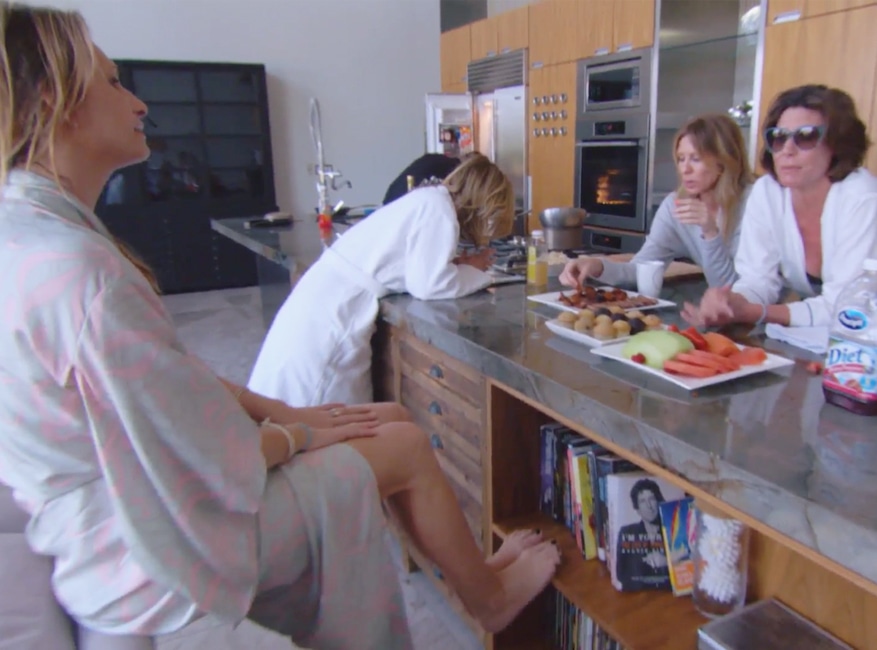 Bravo
25. Turks and Caicos, Real Housewives of New York City season 7
Heather Thomson and Carole Radziwill lost it when they woke up in the morning to find a naked man sleeping in the room over, left there after Luann de Lesseps and Ramona Singer brought the party home the night before. The argument around the kitchen island gifted us one of Lu's most iconic lines from her tenure on the series, delivered with sunglasses on and all. Say it with us now: "Be cool. Don't be all, like, uncool."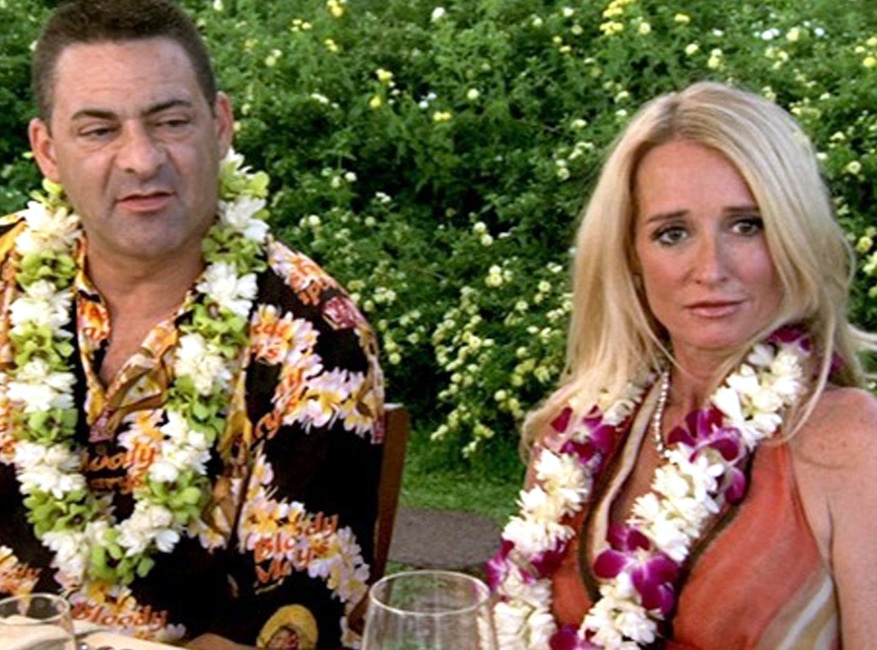 Bravo
24. Hawaii, Real Housewives of Beverly Hills season 2
Isn't the Aloha state supposed to be all about beaches and bikinis? Instead, Taylor Armstrong thought it was the perfect place to reveal she was ending her marriage to Russell Armstrong. Meanwhile, Lisa Vanderpump tried not to worry that her friend Brandi Glanville was flirting with Ken Todd. It was all in good fun, right?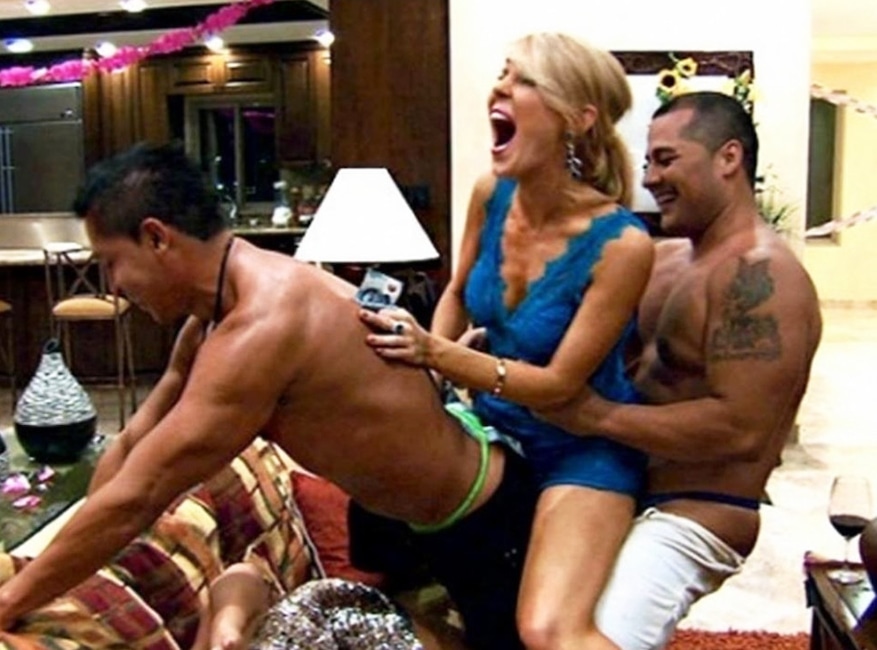 Bravo
23. Mexico, Real Housewives of Orange County season 8
Tamra Barney's bachelorette party was so much more than just naughty strippers. In fact, things got way awkward when Heather Dubrow and Gretchen Rossi were left stranded at a Mexican restaurant when the rest of the crew partied the night away. And who can forget when Vicki Gunvalson peed the bed?! Now that's proof you've had one too many drinks.
Article continues below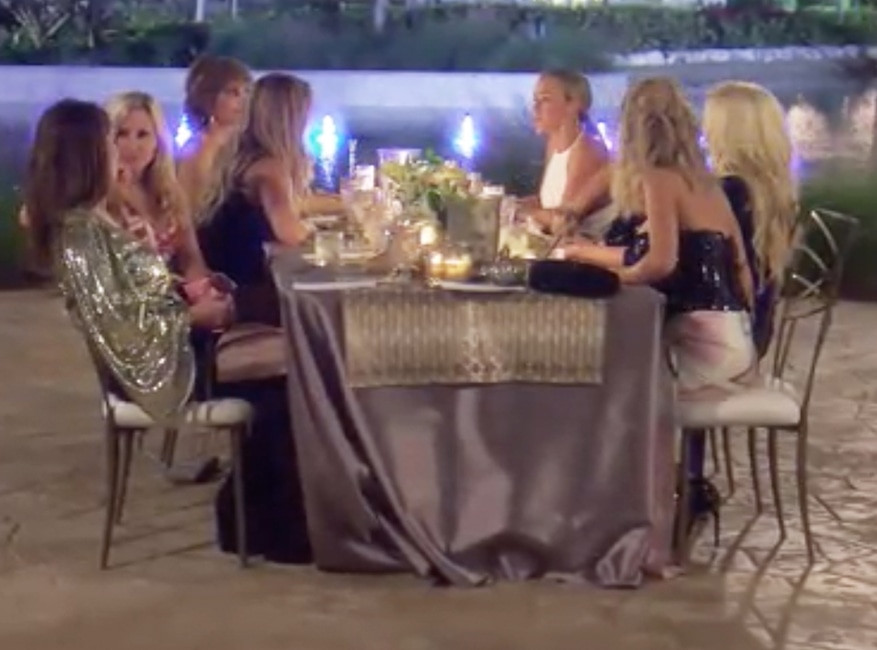 Bravo
22. Bahamas, Real Housewives of Beverly Hills season 9
This trip early in the ninth season marked the beginning of the end of LVP's tenure on the series as accusations that she was involved in Puppygate from the start came to light.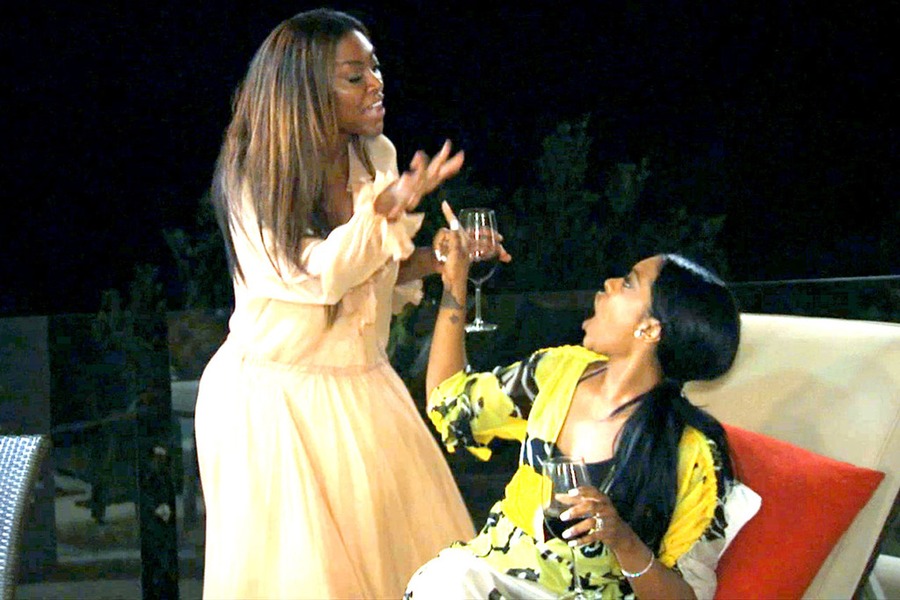 Bravo
21. Anguilla, Real Housewives of Atlanta season 5
Once Phaedra Parks stepped out in her thong bikini, we actually thought this trip was going to be drama-free. Jokes on us! Things turned dicey fast when Apollo Nida and Kenya Moore got a little too close for comfort in the pool. And who will ever forget the dramatic showdown between Kenya and Porsha Williams, which gifted the former's iconic "Gone With the Wind fabulous" twirl?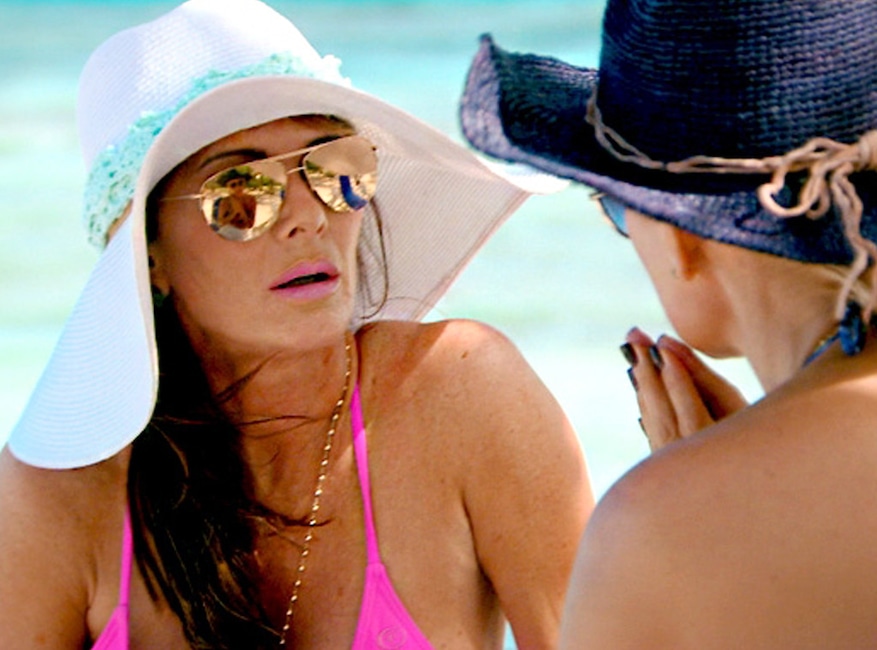 Bravo
20. Puerto Rico, Real Housewives of Beverly Hills season 4
Don't bring tabloids on vacation! The ladies of Beverly Hills all kind of ganged up on Lisa Vanderpump here. Yolanda Foster, Kyle Richards and Brandi Glanville all had issues with their former BFF and tried to hash them out. Lisa and Ken Todd weren't having it and left the table—and the vacation—early. Friendships were broken, never to be repaired.
Article continues below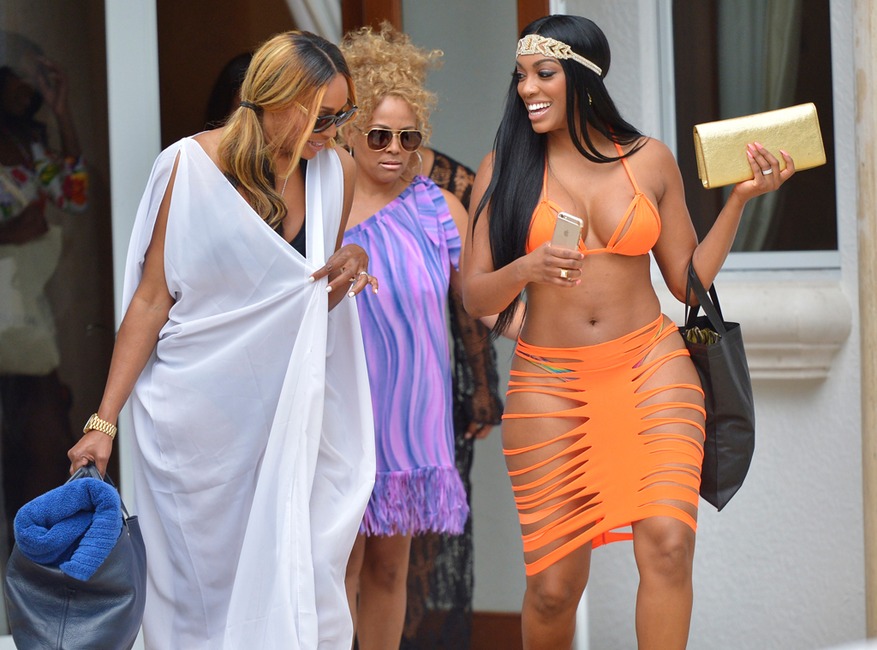 Rodrigo Valera/Bravo/NBCU Photo Bank/NBCUniversal via Getty Images
19. Miami, Real Housewives of Atlanta season 8
A fun girls trip quickly turned sour when Kenya Moore wanted the nephew of Cynthia Bailey's friend Tammy out of their rental after some displays of aggressive behavior. He didn't take too kindly to the request and got even more aggressive, knocking his aunt to the floor–and out cold–in the process. We'll never forget the image of Tammy's concussed, zombie-like visage returning to the house in the dead of night to collect her things.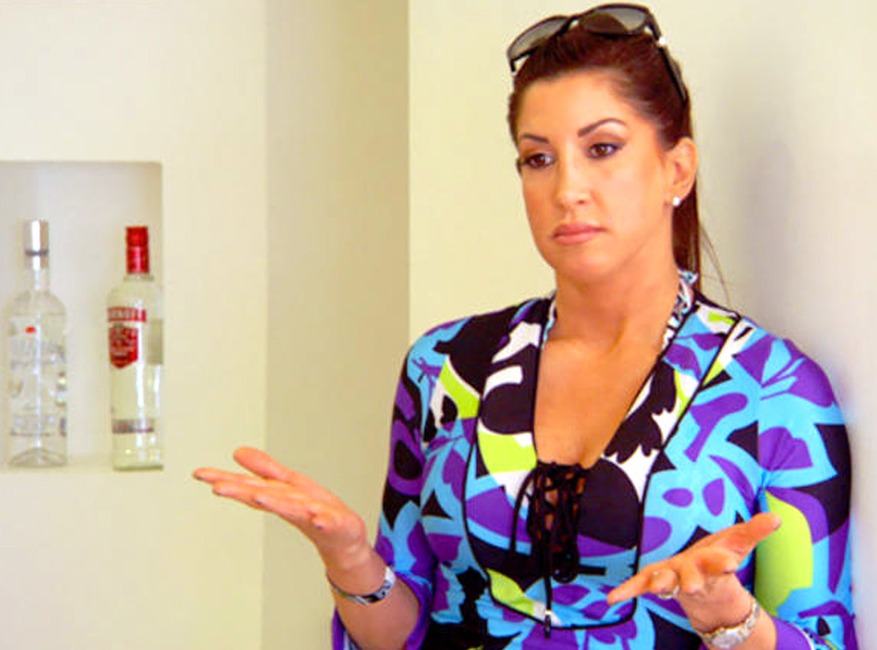 Bravo
18. Punta Cana, Real Housewives of New Jersey season 3
Things were going so well for the Jersey crew until Kathy Wakile admitted that starting a restaurant wasn't for her because it would allow for less time with her children. Somehow, some way, Teresa Giudice took it personally and immediately blew up. As Kathy summed it up to Melissa Gorga, everything was just "cuckoo-cuckoo."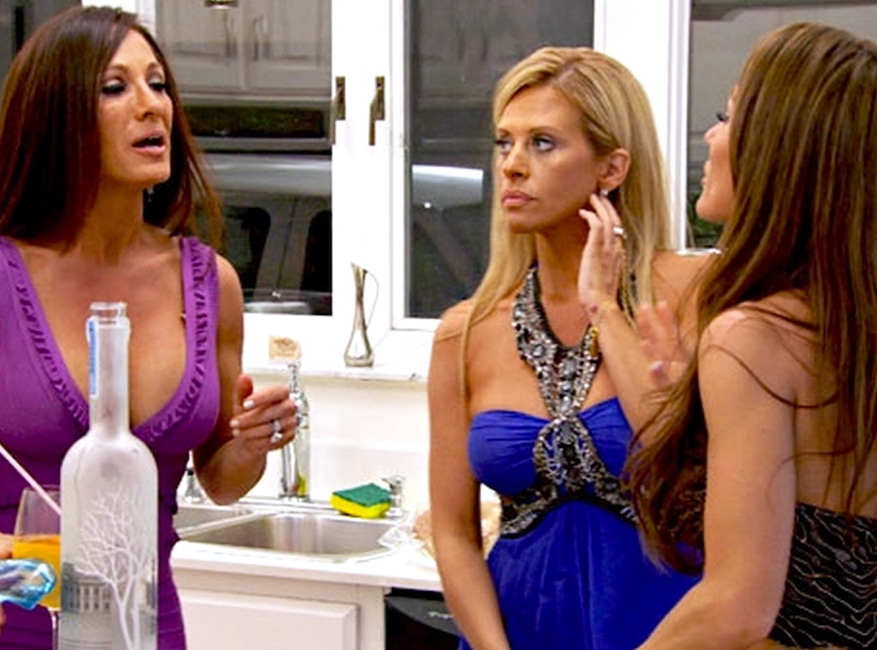 Bravo
17. Florida, Real Housewives of New Jersey season 6
Jim Marchese showed up to the Sunshine State and brought the drama with him from New Jersey. Remember the rumor Victoria Gotti started about Teresa Aprea's mom and Teresa's husband Rino? Of course you do. Well, the ladies had been tip-toeing around it all until Jim showed up. He also got into it with Bobby. They were also all clearly drinking.
Article continues below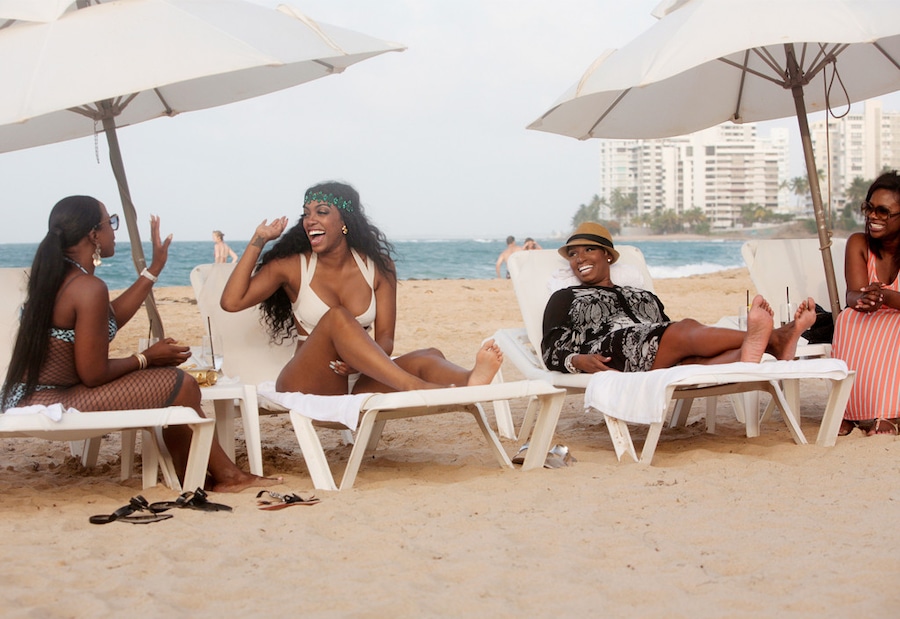 Laura Magruder/Bravo
16. Puerto Rico, Real Housewives of Atlanta season 7
A group divided got even more so after a dinner erupted into several shouting matches, the biggest of all being between NeNe Leakes and Claudia Jordan. The drama spilled over into the next day, obviously, and the two hurled insults and attacks at each other like nobody's business.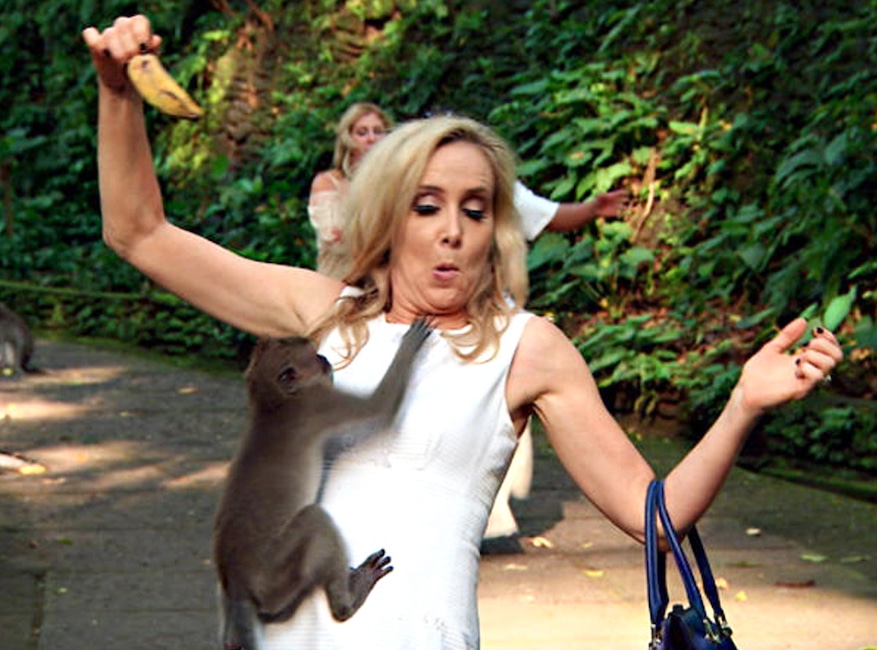 Bravo
15. Bali, Real Housewives of Orange County season 9
The ladies of Orange County were coming from a very rocky place when they made the long trip to Bali. Heather Dubrow and Shannon Beador went back and forth and back and forth about marriage problems and rumor spreading, and Bali was supposed to heal them. It did. Sort of. But then everybody started airing their grievances about Tamra Judge and her meddling ways, leading Tamra to run from dinner, shouting, "You will never see my face again! F— you guys!" Then Vicki Gunvalson broke down. Bali, y'all.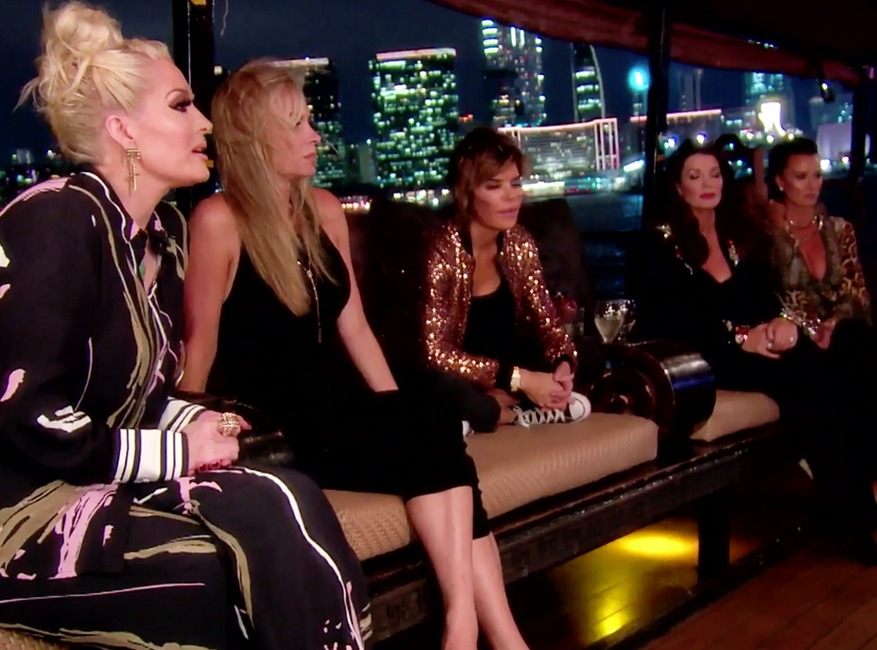 Bravo
14. Hong Kong, Real Housewives of Beverly Hills season 7
Tensions between Erika Girardi and newcomer Dorit Kemsley has been simmering all season long. By the time they got on the junk boat in Hong Kong, they'd reached a full boil. Erika ripped into Dorit as the electric backdrop of the city's skyline twinkled behind them. At a later dinner, Lisa Rinna got her licks in, accusing people of doing drugs in the bathroom at one of Dorit's prior dinner parties. But the real fireworks flew when Erika exploded on Eileen Davidson over an innocuous comment about her police officer son. Jet lag makes us do some wild things.
Article continues below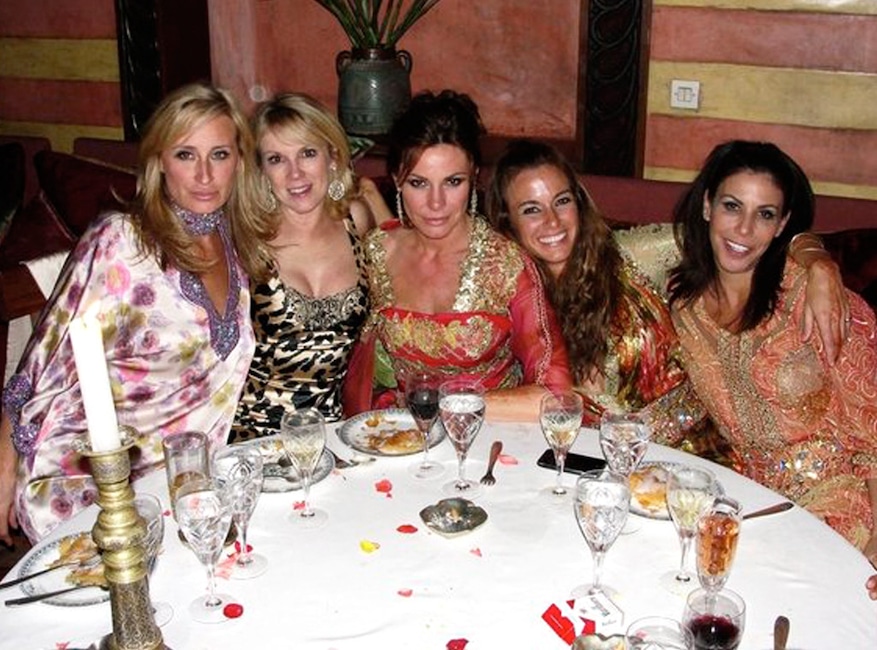 Bravo
13. Morocco, Real Housewives of New York City season 4
"What is that? Is that a buffalo coming down the stairs?" and "It's weird."
The ladies took a "trip of a lifetime" that was full of camel rides, yelling, fortune tellers, missed dinners and stolen hangers. It was Alex McCord vs. LuAnn de Lesseps and Kelly Bensimon. Jill Zarin vs. Ramona Singer. There was hives, tears and henna. Nobody does trips like the ladies of New York City.
Bravo
12. Berkshires, Real Housewives of New York City seasons 6, 8-11
We haven't come to call them the Berserkshires for nothing. In season six, Ramona Singer threw a glass at Kristen Taekman and hightailed it out of the woods on a private plane that was Hamptons-bound. Season eight gave us the first trip to Dorinda Medley's home, where Bethenny Frankel and Luann de Lesseps had it out in spectacular fashion before the hostess broke down and delivered the now iconic "I made it nice." And every season since that first trip has included another that has us wondering why Dorinda keeps inviting these women back into her home year after year.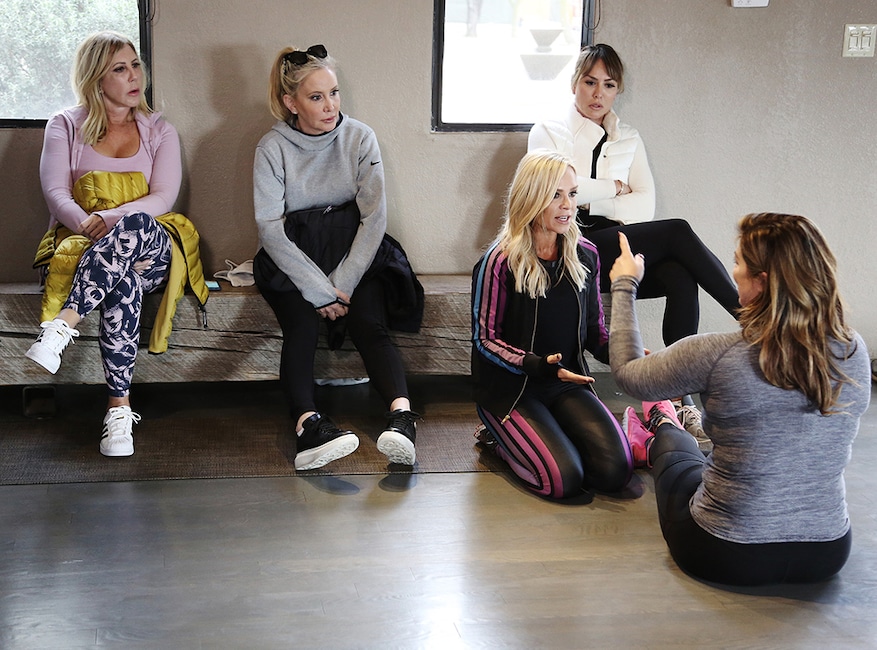 Bravo
11. Miraval, Real Housewives of Orange County season 14
This trip to the cleansing spa located in Tuscon, Ariz. was supposed to bring the ladies of RHOC together. Instead, it only divided them further when, during a sound bath ceremony, Kelly Dodd decided to play a prank on Shannon Beador as she was wearing a bowl on her head by smacking it like a gong. The only problem? Shannon and her allies didn't find it even remotely funny. Oops.
Article continues below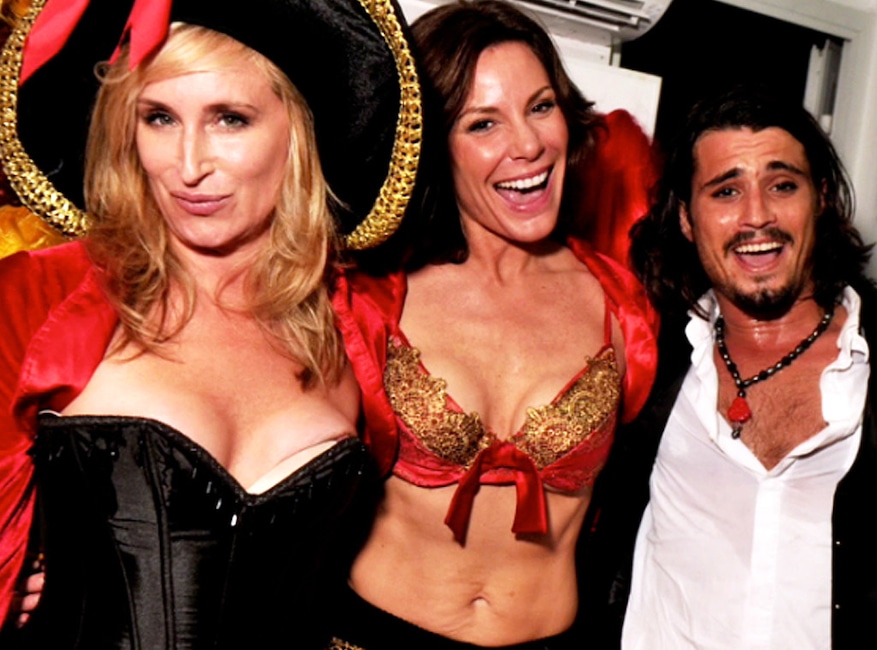 Bravo
10. St. Barths (aka Slutty Island), Real Housewives of New York City season 5
Five words: "Calm down! Take a Xanax." Six other words: "You're both white trash, quite frankly." The St. Barths trip, alternately known as Slutty Island, sure looked like fun. Until Aviva Drescher got there. First the ladies went wild—LuAnn even brought a male friend over!—but when Aviva and Reid showed up it was like a dramatic wet blanket. Good for TV, bad for the ladies trying to enjoy themselves.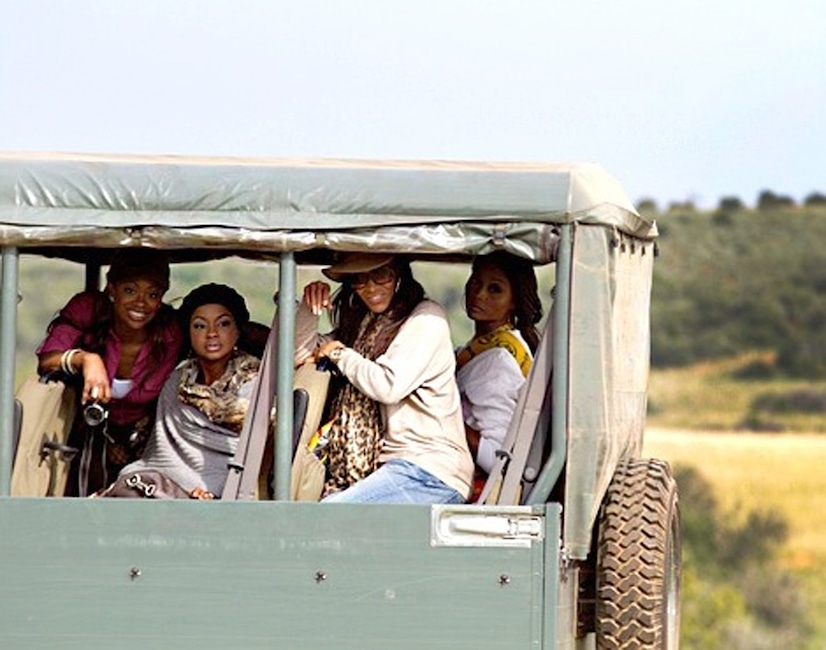 Bravo
9. South Africa, Real Housewives of Atlanta season 4
The "talls" vs. "smalls" alliances were in full force especially when Sheree Whitfield only invited alliance members Phaedra Parks and Kandi Burruss to a fancy dinner. When enemy Marlo Hampton found out she wasn't included, let's just say she wasn't going down without a fight.
Bravo
8. Puerto Vallarta, Real Housewives of Orange County season 9
Who knew vacations could help bring the spark back in marriages?! While Vicki Gunvalson and Brooks Ayers were hot and heavy, Shannon Beador and David Beador were struggling more than ever with their relationship. After a candle-lit dinner, the twosome finally woke up and decided it was time to fix things before it was too late.
Article continues below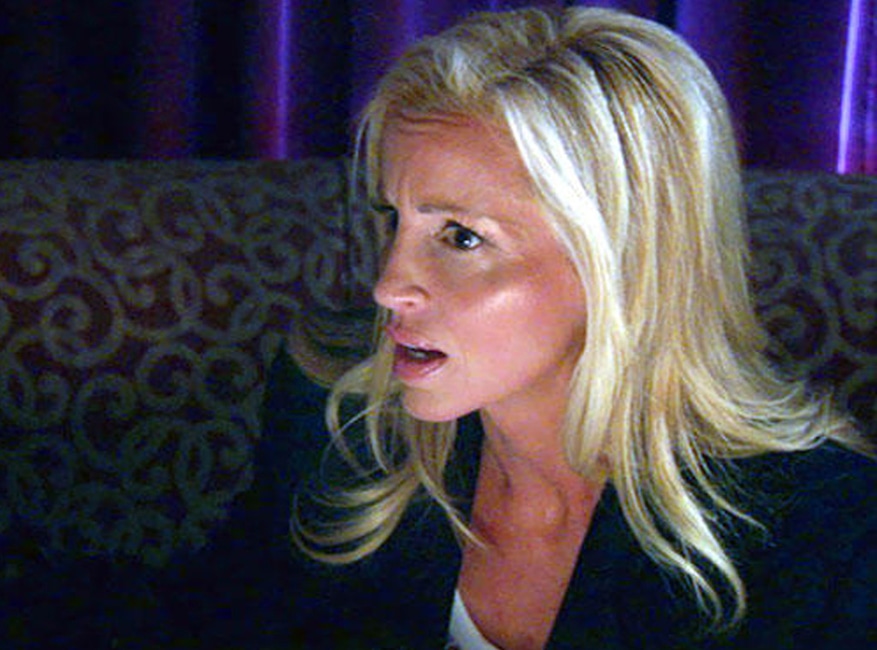 Bravo
7. New York, Real Housewives of Beverly Hills season 1
Camille Grammer invited her friends to the Big Apple to attend her then-husband Kelsey Grammer's Broadway show. Unfortunately, the bad blood between Kyle Richards and Camille was still too much to bear in some moments. Never forget those famous lines: "You're such a f–king liar, Camille."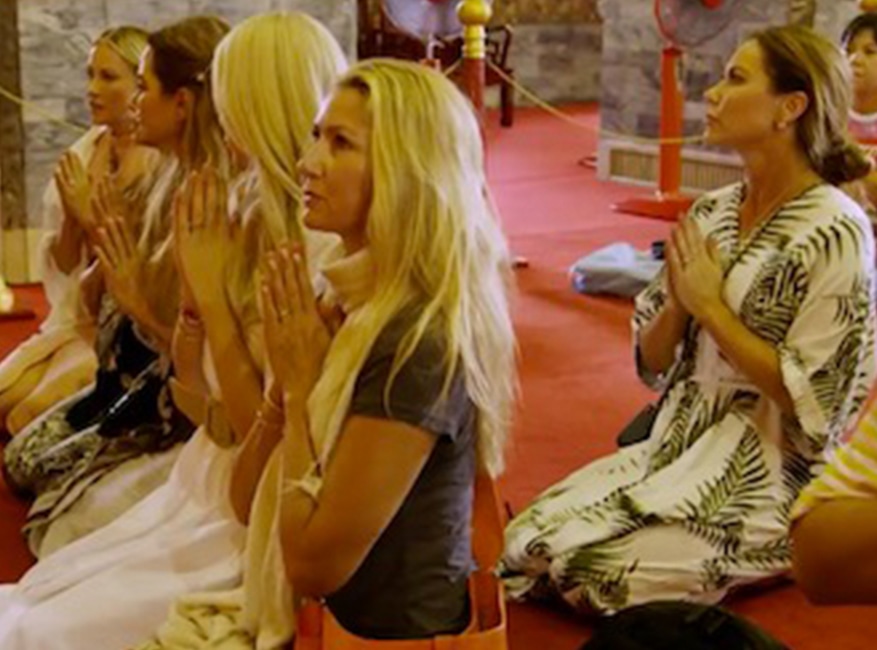 Bravo
6. Thailand, Real Housewives of Dallas season 4
Leeanne Locken was in rare form on this group trip. There wasn't a moment that went by that she didn't spar with newcomer Kary Brittingham, constantly referring to her foe by racist slurs when out of earshot. And after a trip to the Red Light District left her feathers ruffled, she unloaded on her one ally, Kameron Westcott, in a moment that had to be seen to be believed.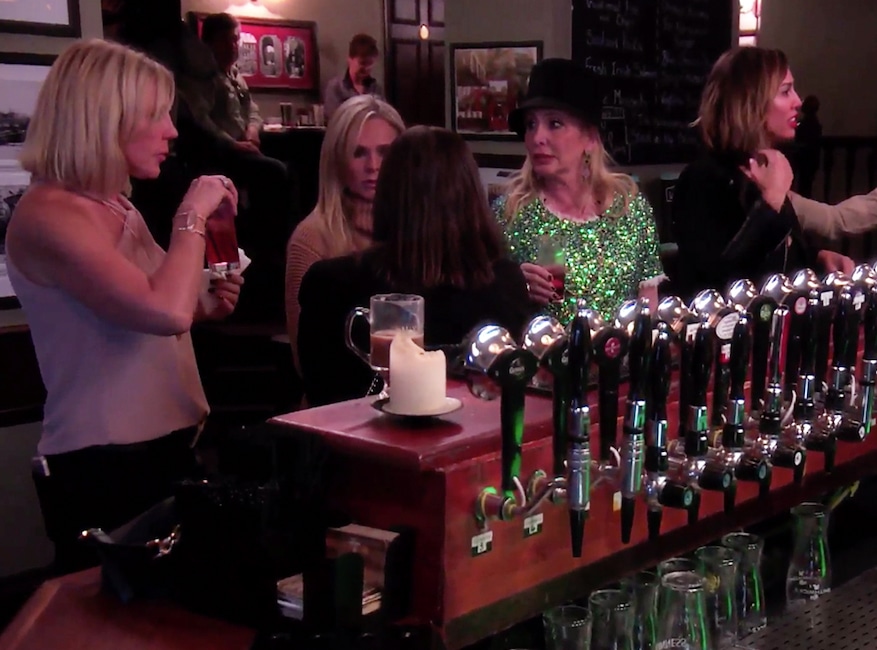 Bravo
5. Ireland, Real Housewives of Orange County season 11
This group trip to the Emerald Isle began with Tamra Judge and newcomer Kelly Dodd sparring in the streets after a pub crawl and ended with the van ride from hell, an early morning trip to the airport that saw the ladies laying into one another in a fashion we'd never quite seen before. As Tamra accused Vicki Gunvalson of spreading rumors about her marriage, she got right up in the face of her one-time BFF and bellowed "F–k you!" in a way that shook us to our core.
Article continues below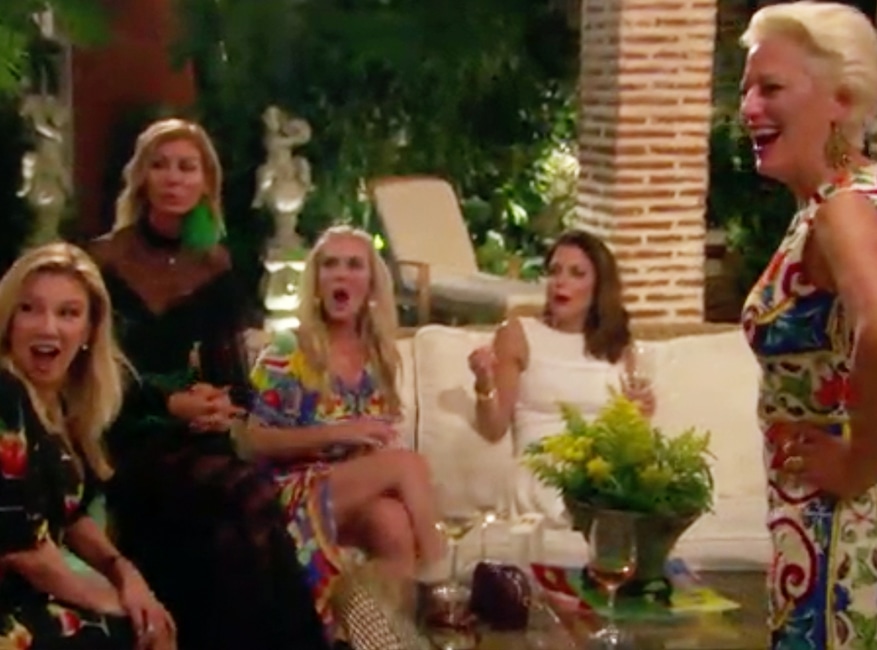 Bravo
4. Colombia, Real Housewives of New York City season 10
There's probably zero chance any of the ladies will return to Cartagena, but, boy, did this trip have it all. There was the dinner where not one, but two fights broke out at once, with freshly sober Luann de Lesseps and a visibly intoxicated Dorinda Medley shouting at each other on one end and former besties Bethenny Frankel and Carole Radziwill exploding at the other end. There was the boat trip from hell that nearly left them all dead. And then there was the case of food poisoning that had them all exploding in quite another way, if you catch our drift.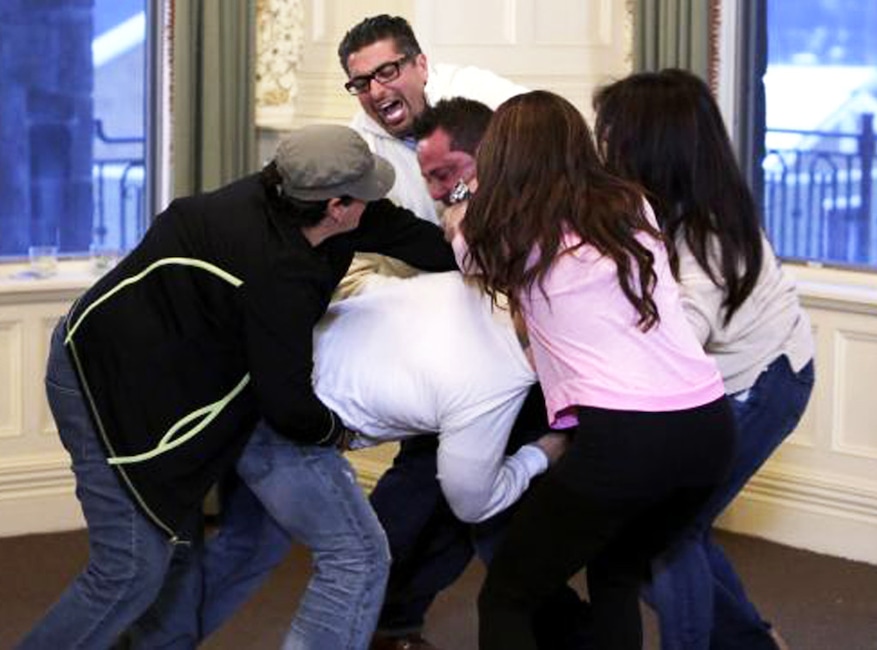 Bravo
3. Lake George, Real Housewives of New Jersey season 5
The Joes of Real Housewives of New Jersey went at it at the retreat to repair their family. So basically they did the exact opposite of what they should be doing. It all started when Joe Gorga called his sister Teresa Giudice scum. Joe Giudice was not having it. The Joes tussled, but eventually made peace. Sort of.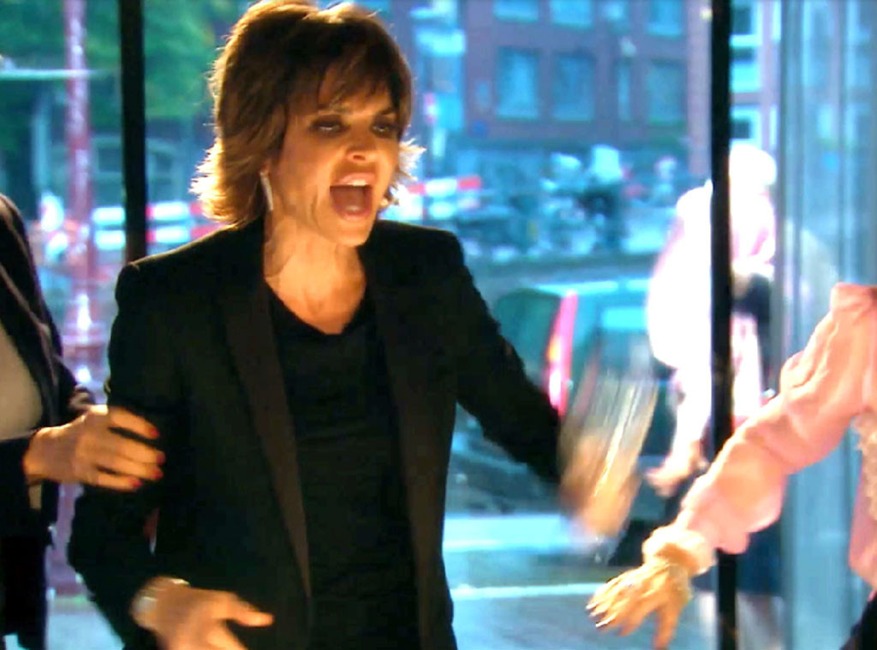 Bravo
2. Amsterdam, Real Housewives of Beverly Hills season 5
There's just something about vacations that brings out the utterly nuts behavior in some of the ladies of The Real Housewives. Amsterdam will go down in Real Housewives history thanks to the Lisa Rinna vs. Kim Richards dinner blowup that saw Kyle Richards flee the table, Eileen Davidson get called a beast and then some. Things continued the following day when the ladies rehashed everything again, this time with more tears than yelling and no broken glass. The trip was capped off with a slap when Brandi Glanville smacked Lisa Vanderpump, albeit in what we assume was a playful (drunk) way.
Article continues below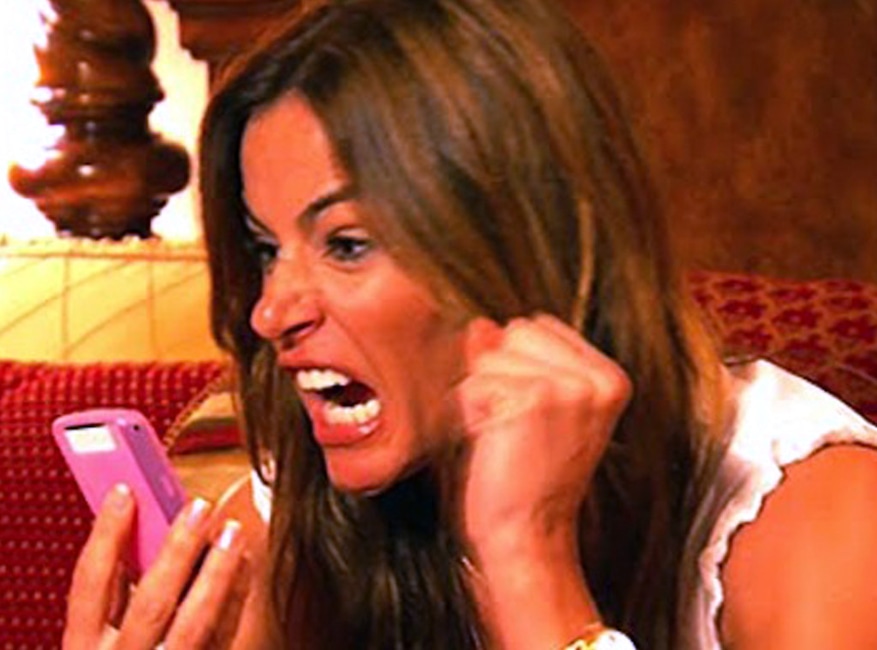 Bravo
1. Scary Island, Real Housewives of New York City season 3
Scary Island is the stuff of TV legends. Scary Island provided us with many gifts including Turtle Time and Bethenny Frankel yelling "GO TO SLEEP!" The vacation from hell also saw Kelly Bensimon and her jellybeans have a breakdown over "systematic bullying" and Ramona Singer kick Jill Zarin out after walking through a house yelling, "surprise." There is no vacation quite like Scary Island and that's a good thing for the ladies, however bad it might be for us viewers.
The Real Housewives of Atlanta airs Sundays at 8 p.m. on Bravo.
(E! and Bravo are both part of the NBCUniversal family.)
Source: Read Full Article