As much as I love Netflix's original TV shows (they are the ones responsible for bringing us Stranger Things and The Chilling Adventures of Sabrina, after all), lately, they've been killing it in the original movies department. In 2018, Birdbox launched memes that took over the internet for months, and I will never get tired of watching To All The Boys I've Loved Before. And this year, the streaming service is launching even more brand-new movies unique to Netflix for the first time.
There's a lot to look forward to in the year ahead, so here are all the best Netflix original movies coming in 2020.
All the Bright Places
All the Bright Places just premiered on Netflix, and already, people are talking. In this movie (which is based on the book by the same name) Elle Fanning and Justice Smith play two high schoolers who are dealing with mental illness and change each other's lives when they cross paths. Warning: This one's a major tearjerker.
Date: Already live on the service
The Last Thing He Wanted
Starring Anne Hathaway, Ben Affleck, and Rosie Perez, The Last Thing He Wanted follows a journalist who becomes an arms dealer in Central America after she finds out her father is dying, leaving the position open. The movie dropped on Netflix February 21, 2020 and is streaming now.
Date: Already live on the service
The Kissing Booth 2
Fans of The Kissing Booth starring Joey King are going to love the sequel to the popular Netflix rom-com. Set to release this spring, the movie will pick up where King's character, Elle, left off with Noah (Jacob Elordi) and Lee (Joel Courtney).
Date: May 2020 (rumored, not confirmed yet)
The Half of It
Yep, another teen rom-com is on deck for Netflix this year, because they know what the people want. Dropping May 1, 2020, The Half of It is about a high schooler named Ellie (Leah Lewis) who helps her classmate, Paul (Daniel Diemer) write letters to the girl he has a crush on, Aster (Alexxis Lemire), but there's only one problem—Ellie's in love with her too.
Date: May 1, 2020
The Prom
Only Ryan Murphy could be responsible for putting together a cast like this in all its epicness. Starring Meryl Streep, James Corden, Andrew Rannells, Keegan Michael-Key, and Nicole Kidman, The Prom is a musical about a group of failing Broadway stars who want to help a lesbian high schooler take her girlfriend to the prom.
Date: 2020, TBD
Lost Girls
Premiering March 13, 2020, Lost Girls stars Amy Ryan (yes, Holly from The Office) as a woman who is trying to find her missing daughter and uncovers a series of murders of female sex workers that the Long Island serial killer was responsible for.
Date: March 13, 2020
Rebecca
Based on the classic novel by Daphne du Maurier, Rebecca is about a woman (Lily James) who moves into her new husband's home, only to find out that his dead first wife is everywhere. A release date has yet to be announced, but the movie also stars Armie Hammer and Ann Dowd.
Date: 2020, TBD
Hillbilly Elegy
Starring Glenn Close and Amy Adams, Hillbilly Elegy follows three generations of an Appalachian family. So far, the Ron Howard–directed film doesn't have a release date, but it's expected sometime this year.
Date: 2020, TBD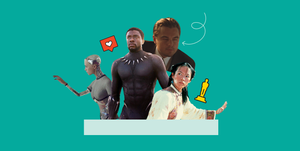 Source: Read Full Article