If you're a fan of The Incredible Dr. Pol, you will, of course, recall Dr. Emily Thomas, staff vet extraordinaire. You may or may not know that her husband, Tony, worked alongside his popular wife in Dr. Pol's veterinary clinic.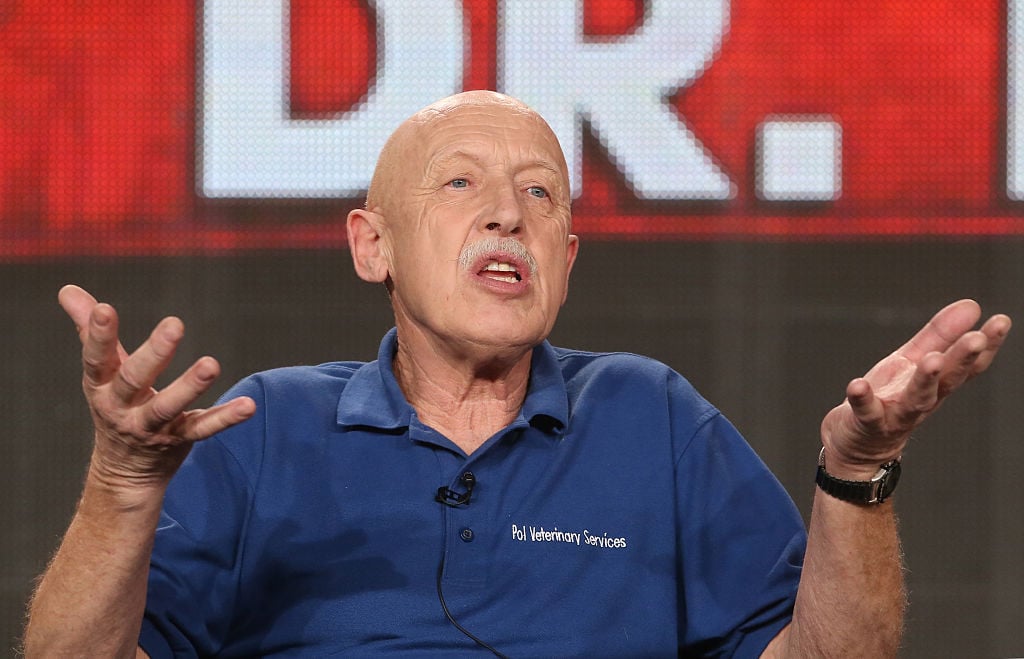 We shared in an earlier post Tony's more general, and very positive sentiment about working there.
Here's a look at the hour-by-hour experience at the clinic. It's a dizzying day and will help fans appreciate how Dr. Pol does it all, and how the staff has to keep up with him.
She's missed at Pol Veterinary Clinic
To say that Dr. Emily is a fan favorite at the clinic and on the reality show is an understatement. The show's followers still talk about her (the reruns help), her unassuming style, and easygoing manner.
Upon her departure, Twitter spoke up.
"Omg I am just so so bummed that @DrEmilyThomas is leaving the show!! I'm truly sad. She was absolutely my favorite! After #DrPol of course. The show Won't be the same. Good luck #DrEmily to you & your family!! You'll be truly missed!!! You are excellent at what you do!"
"I'm so not happy to see #DrEmily go. Happy for her and her family but sad for us viewers."
Dr. Emily has moved on to another veterinary clinic
The 35-year-old has moved, along with her family, to another animal hospital in Virginia.
Her husband, Tony, in one of his Tony Takeovers, in which he writes guest posts on Dr. Emily's blogs, wrote about their move to Virginia.
". . . when it was time to leave Michigan, we had an idea of what we wanted."
"Virginia became an obvious place for us. Within Virginia, the Shenandoah Valley was appealing. The Shenandoah National Park is basically in our front yard, and there is a nice river for canoeing and kayaking."
Dr. Pol's clinic – a day in the life for Tony
Dr. Emily's husband went into detail on her blog about a typical day for him at Pol Veterinary Clinic. Tony worked there in a support/administrative capacity, and had hardly a second to breathe.
"I have just unlocked and opened the front door to the clinic, and four to six owners with their animals in tow would pour into the little lobby . . . If the patient I pick just so happens to be deemed the most interesting case by the film crew, everything slows down."
"Microphones are produced and placed on me and the client, two different cameramen take their places, one behind me looking at the client and one behind the client looking at me. When everyone is ready, the check in begins."
As soon as the first clients arrive, any semblance of peace is over, as Tony explains.
"Once the first client walks in for their scheduled appointment, the seal is broken and it sometimes feels like the levees break. The clients, from that point on, do not stop coming; wave after wave crash upon that front desk."
"Anything a doctor needed, that was my job, and one doctor or another almost always needed something. I was doing all of this with a six-person camera crew filming everything they could."
"A dog needed to go to radiology, the film crew followed; a growling dog needed to be restrained, the film crew was there. The film crew really was great at staying out of the way as much as possible, but there was only so much room in that clinic."
"The doctors were almost never done seeing appointments by 5:00, if Emily left the clinic by 6p.m. she was doing well. On top of this, the clinic didn't close until 6p.m. on Monday and Friday. So, the staff wouldn't leave until around 7p.m."
Read more: 'The Incredible Dr. Pol' Will Be Streaming In More Countries on Disney+
Source: Read Full Article