It's almost time to return to the werkroom for "RuPaul's Drag Race All Stars" Season 6. Premiering on June 24, the season brings back some of the most memorable queens from past seasons, like Jiggly Caliente, Eureka, Ginger Minj, A'keria C. Davenport, Jan, Sonique, Pandora Boxx, Ra'Jah O'Hara, Scarlet Envy, Silky Nutmeg Ganache, Trinity K. Bonet, Yara Sofia, and Serena ChaCha. The queens will be competing for the $100,000 cash prize, bragging rights, and the chance to take their place alongside past winners and legendary drag queens such as Chad Michaels, Alaska, Monét X Change, and Shea Couleé (to name a few!).
A number of this season's "All-Stars" have a lot to prove, including Serena ChaCha. Serena competed on Season 5 of "RuPaul's Drag Race," where, who could forget, she went home pretty early and was a little wet behind the ears compared to legends like Alyssa Edwards. Serena ChaCha went home in the second, per Screen Rant, but she's "back, back, back again" to prove she can go further this time. Especially since she is the worst-performing queen to return.
Can Serena ChaCha do it? She's older now and presumably wiser than she was back in 2013. 
Serena ChaCha experienced bullying after her season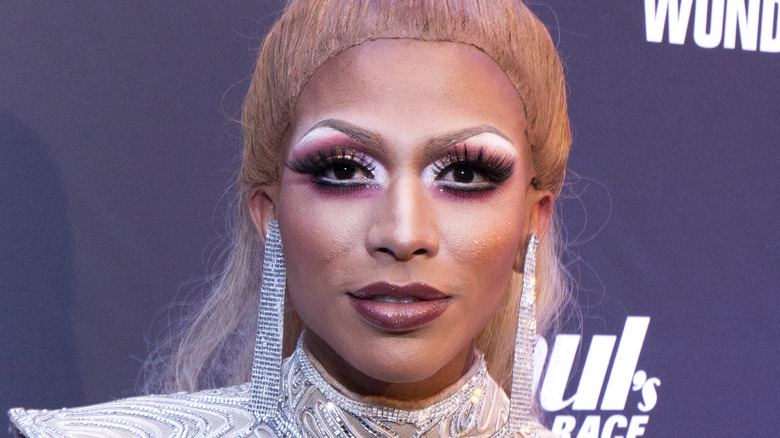 Serena ChaCha is the stage name of Myron Morgan, who came in 13th on Season 5 of "RuPaul's Drag Race" in 2013. Serena is an art school graduate (as she was quick to tell her sisters on Season 5) who specializes in surrealism paintings. She graduated with her BFA from Florida State University in 2012, per FSU.edu. "I think what it [my background] rather did was it gave me an over-confidence that was channeled the wrong way. You know? It definitely made me admire where the other queens were coming from, actually," she told Logo
Serena was asked if her experience on "RuPaul's Drag Race" was positive or negative by the outlet. She said, "I would say overall it's been a blessing. I mean, are you kidding? I'm Serena ChaCha from 'RuPaul's Drag Race" Season 5 at the end of the day!'" She continued, however, saying that the online hate got real. "The only sad thing is the audience and their negative bullying in social media … As a fan of the show, I never even dared to make negative comments about anyone, you know? … To have that judgment is really sad, and I think in a community where we're so against bullying, to me, it's sad to see that people take the time to bully us on social media." 
Serena has clearly grown since her season and her "lewks" on Instagram showcase that. We'll see how far she goes!
Source: Read Full Article