Donnie Wahlberg is the older brother of Mark, a founding member of a famous boy band, an actor, producer, and husband of "The Masked Singer's" Jenny McCarthy. Since 2010, he's played Danny Reagan on "Blue Bloods," per IMDb. He has produced the TNT reality show "Boston's Finest" since 2014, and produced and starred in "Wahlburgers" on A&E TV. In other words, he's a busy man.
He got his first taste of fame as one of the five members of New Kids on the Block. They hit it big in 1988 with their second album and the single "Please Don't Go Girl," per IMDb. The band released hit after hit throughout the late 1980s and early 1990s, including "The Right Stuff" and "I'll Be Loving You (Forever)." They were one of the hottest groups of their era and sold more than 70 million albums.
New Kids on the Block broke up in 1994, due in part to the fact that they'd outgrown their band's name, image, and style. Since then, he has branched out into a number of other creative fields. Keep reading to find out the untold truth of Donnie Wahlberg.
He has eight siblings and three half-siblings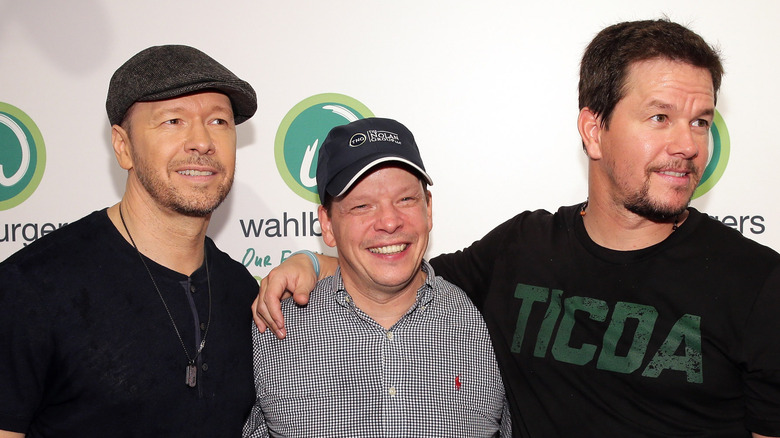 If you've happened to catch an episode of the A&E reality TV series "Wahlburgers," then you know just how enormous Donnie Wahlberg's family is. He is one of nine siblings and the eighth youngest out of Arthur, Jim, Paul, Robert, Tracey, Michelle, Debbie, and Mark, per TV Overmind. Additionally, Donnie and his siblings have three half-siblings — Donna, Scott, and Buddy — from their dad's first marriage.
"Wahlburgers" aired from 2014 to 2019, per IMDb, and chronicled Donnie, Mark, and Paul's efforts to expand their burger chain of the same name, which has more than 30 locations across the U.S. During the 10 seasons that were produced, Donnie found that working together on the reality TV show has brought his already-close family even closer. In an interview with A&E about the final season of "Wahlburgers," Donnie said, "It's been an amazing journey that has brought us closer together as a family and launched our little business to heights we never could've imagined."
Donnie Wahlberg liked to play the part of the bad boy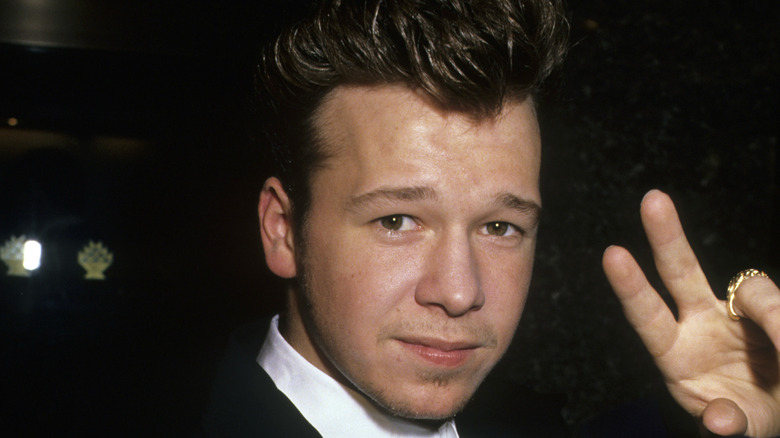 In his younger days, when New Kids on the Block was at the height of their fame, Donnie Wahlberg liked to raise a little hell and try to play the part of the bad boy. He started got several tattoos and body piercings in an effort to play against the image of squeaky-clean teenagers his band had, per IMDb.
Additionally, back in 1991, Donnie faced 20 years to life in prison for first-degree arson after he set a fire at a hotel in Louisville, Kentucky. Police reports revealed that Donnie and other members of New Kids on the Block were partying late into the night. Donnie reportedly was drunk and came up with the idea to pour vodka onto the carpet in the hallway and set it on fire, per AP.
As he was only 20 at the time, being in possession of alcohol was illegal. He turned himself in and was freed on $5,000 bail, in time to perform the sold-out concert the next night. At a news conference before the show, he claimed, "The charge of arson is really ridiculous. In no way, shape or form did I break the law,″ Donnie was able to (or more accurately his attorney was able to) negotiate a deal where the charges were dropped on the condition he attended classes on fire safety, drunk driving, and drug abuse.
He produced and co-wrote Mark Wahlberg's albums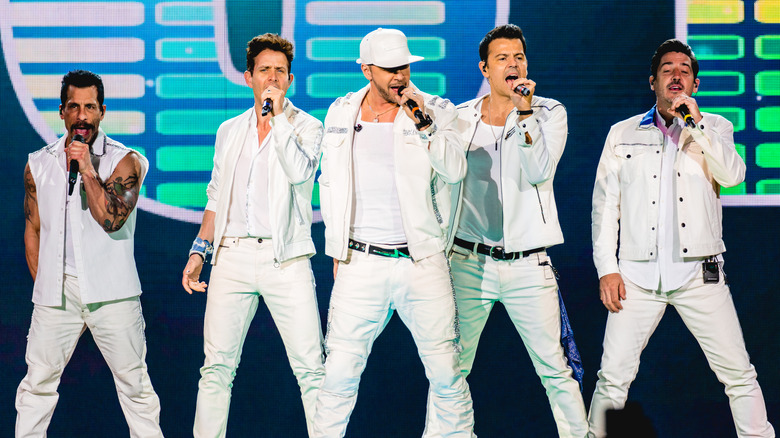 Mark Wahlberg was supposed to be part of New Kids on the Block, but backed out before the band launched. Instead, he launched his own career as Marky Mark in 1991 and formed the band Marky Mark and the Funky Bunch.
By 1991, Donnie was already a worldwide star and he produced, mixed, and arranged The Funky Bunch album "Music for the People" in 1991, which was a huge success for the band. The album made it to number one on the Top Heatseekers chart and number 21 on the Billboard 200. Donnie also produced, mixed, arranged and the group's follow-up album,"You Gotta Believe" in 1992. Donnie also co-wrote a number of songs for his brother's band, including their best-known song and number one hit "Good Vibrations," per TV Overmind.
It wasn't just his brother that Donnie helped out in this way, he also worked on Joey McIntyre and Jordan Knight's solo efforts.
He proved he had serious acting chops in The Sixth Sense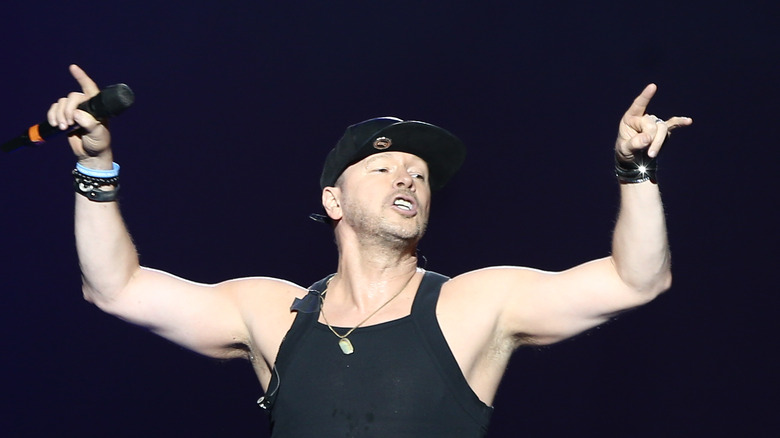 Once New Kids on the Block called it quits in 1994, Donnie Wahlberg turned his attention to acting. He appeared alongside Mickey Rourke and the late Tupac Shakur in the 1996 film "Bullet," per IMDb. He also appeared alongside Mel Gibson in "Ransom" that same year.
However, it was his role in the 1999 M. Night Shyamalan's "The Sixth Sense" that showed Donnie was every bit as talented an actor as his younger brother Mark Wahlberg. He had a small role as a deranged former patient of psychiatrist Bruce Willis. Donnie's character's acts of horrific violence set up the twists and turns that made "The Sixth Sense" a massive hit, per IMDb.
He followed that up with a role in the critically-acclaimed 2001 10-part series "Band of Brothers," in which he played a WWII paratrooper. Donnie is probably best-known for his role in the "Saw" horror franchise as well as his long-running role on "Blue Bloods."
He's been married twice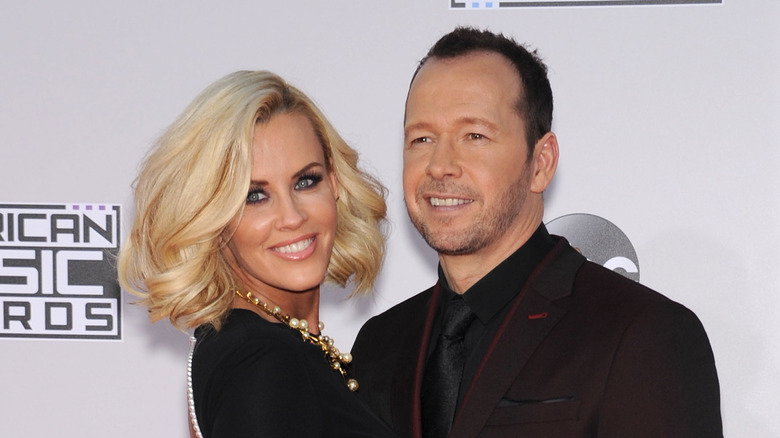 These days, Donnie Wahlberg is happily married to Jenny McCarthy, but she is his second wife. In 1990, Donnie met musician and sound engineer Kimberly Fey while he was working on Marky Mark and the Funky Bunch's debut album. They went public with their relationship in 1991 and in 1993, their son Xavier Alexander was born, per Wiki. They married on August 20, 1999. Their second son Elijah Hendrix was born in 2001. She filed for divorce in August 2008, citing irreconcilable differences, per TV Overmind.
In March 2013, Donnie met former Playboy Playmate Jenny McCarthy on the set of "Watch What Happens Live," per Us Weekly. The couple went public with their relationship in July 2013. They got engaged in April 2014 and announced it in an appearance on "The View," per People. They married in St. Charles, Illinois at the Hotel Baker on August 31, 2014.
During an interview with ABC News, Donnie spoke about his wedding, saying, "It [was] very fun, very exciting, still recovering." He went on to talk about the most memorable parts of the day, adding, "I think seeing Jenny come down the aisle with her son and hearing my son's toast were probably two of the highlights for sure."
Source: Read Full Article