If you're craving some IRL-inspired TV, join the club. The best part of any new show is going down a Google rabbit hole to figure out if any part of it is true, right? Thankfully, there's plenty of based-on-a-true-story television coming up in 2020, and we've got all the best ones outlined for you. From a show on women's fight for equality in the 1970s to more mass murderer television than you could ever possibly want, here are the eight true TV shows to look forward to this year.
Mrs. America

Cate Blanchett stars as Phyllis Schlafly, a conservative activist in the 1970s who fought against the Equal Rights Amendment. (Yes, you read that right.) Schlafly goes against Gloria Steinem, Betty Friedan, and others to try to prevent the legislation from passing. And you won't have to wait that long to binge this one—the limited series drops mid-April.
Premiere: April 15 on Hulu
American Crime Story: Impeachment
You've def already heard of this show *and* the story behind it. Ryan Murphy is bringing us a third version of the series to tell the Bill Clinton impeachment story. And Beanie Feldstein will be playing Monica Lewinksy, in case you needed something else to be excited about.
Premiere: Fall 2020 on FX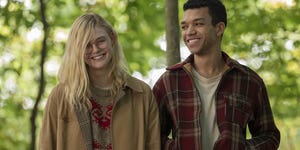 Inventing Anna
This Shonda Rimes creation is about to blow all of our minds. Based on the New York Magazine article about Anna Sorokin, a New York woman who pretended to be a German heiress named Anna Delvey and won over the NYC elite before stealing all their money. (Don't worry, she's now in prison.)
Premiere: Sometime in 2020 on Netflix
Selena: The Series
The show will tell the story of the legendary "Bidi Bidi Bom Bom" singer, who rose to fame in the '90s. It'll cover her Grammy win for best Mexican-American album in 1994, as well as the challenges and family drama she faced along the way, leading up to her unexpected death at the age of 23. You might need some tissues for this six-part series.
Premiere: Sometime in 2020 on Netflix
Hollywood
Very few people do based-on-a-true-story better than Ryan Murphy. (Hence why he made this list twice.) Based on 1940s Hollywood, the show will tell the stories of a group of actors and filmmakers trying to make it in a post-WWII show business. If Murphy himself isn't enough of a reason to watch this, the stars Darren Criss, Dylan McDermott, Patti LuPone and Maude Apatow.
Premiere: May 1 on Netflix
Dr. Death
Jamie Dornan, Alec Baldwin and Christian Slater are coming together to star in this limited series about a sociopathic Dallas neurosurgeon whose patients left his operating room more often dead than alive. Based on the podcast with the same name, the show is sure to cure your true crime cravings (and probably increase your fear of going to the doctor).
Premiere: Sometime in 2020 on NBC's streaming service Peacock
The Serpent
Another one for all my true crime lovers: This eight-part series is based on real-life serial killer Charles Sobhraj, who targeted tourists in 1970s Southeast Asia. Not only was he a mass murderer, he also escaped prison multiple times.
Premiere: Sometime in 2020 on Netflix
Honour
This mini series tells the story of Banaz Mahmod, a 20-year-old woman from London who was killed by her own family in 2006 after she defied their arranged marriage and fell in love with someone else. It'll be told through the perspective of Detective Chief Inspector Caroline Goode, who fought to bring the five men to justice after police officers initially ignored Banaz's reports.
Premiere: Fall/Winter 2020 on ITV
Source: Read Full Article