Christina Haack has a new man in her life, and luckily for fans, they have been seeing a lot of him lately. As many know, Christina has been unlucky in love in the past. In 2017, her husband and "Flip or Flop" co-star Tarek El Moussa filed for divorce. The pair share two children but went through a very public divorce. In 2018, Christina wed Ant Anstead, but it turns out that it wasn't her happily ever after, either. Following two years of marriage, the two called it quits and broke reality television fans' hearts across the globe.
However, not all love has been lost for Christina. In July, she was spotted with a new man we later came to know as Joshua Hall. Christina told fans that she tried to keep their relationship low-profile, but she shared an Instagram post to introduce him to the world after the paparazzi spotted the pair walking together. "I met Josh when I wasn't in a state of fear or fight-or-flight … I had taken time off social, hired a spiritual coach and smoked a Bufo toad (which basically reset my brain and kicked out years of anxiety in 15 mins)," she wrote on Instagram. Christina also shared that the pair's "synchronicities hit us so hard and fast they were impossible to ignore." She also admitted that she instantly felt protective over him. How sweet!
Keep scrolling to find out what Christina now refers to Joshua as. Spoiler alert — we love it.
Christina Haack has a cute name for Joshua Hall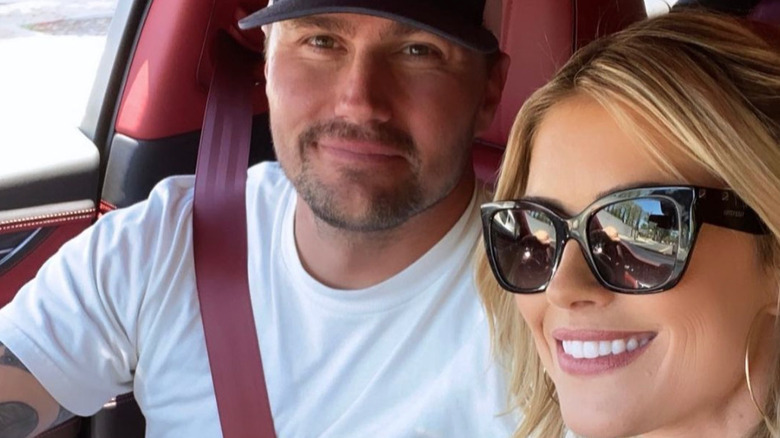 Christina Haack is in love, and she doesn't care who knows it. Though her relationship with Joshua Hall is new, the HGTV star has not been shy about sharing her love for him on social media. Christina shared a post that captured the two sitting in a car and smiling big for the camera. She extended one hand in front of her and rested the opposite on Hall's leg as they both looked into the lens. Christina accompanied the image with a sweet caption while referring to her boyfriend in the most adorable way.
"Ride or Die. Some people are lucky enough to get forever the first time but no one should be shamed for things not working out and no one knows what goes on behind closed doors – remember that before making judgements and assumptions," she shared in the caption. "And this woman / mama is still lucky enough to have this man choose me."
Christina turned the comments off on the post, so it's unclear what fans thought of her update. However, social media users clicked the "like" button at least 121,000, so it's safe to say that fans are loving how happy Christina seems to be, especially after her alleged blow-out fight with Tarek El Moussa on the set of their hit show "Flip or Flop." Tarek reportedly yelled at Christina during the intense moments and told her that he "made" her while referring to her as a "washed-up loser." Wow.
Source: Read Full Article