London: All non-essential travel to the European Union will be banned in the largest attempt yet to control the coronavirus pandemic sweeping the continent, as French President Emmanuel Macron declares his country "at war" and suspends all bills and rents.
European Commission president Ursula von der Leyen announced the shock crackdown on Monday and said anyone not from the EU's 27 member countries would be denied entry unless they are long-term residents or family members of EU nationals.
Shutting borders: European Commission President Ursula von der Leyen.Credit:AP
"Our healthcare system is under huge pressure," she said. "We know that everything that reduces social interaction also reduces the speed of the spread of the virus. The less travel, the more we can contain the virus."
The ban, which will likely be approved on Tuesday, will last for 30 days but is likely to be extended for months as Europe battles its worst peacetime crisis. The unprecedented measure will hit millions of tourists and deepen the economic fallout triggered by the COVID-19 pandemic.
The EU is made of 27 major destinations and economies including Germany, France, Austria, Italy, the Netherlands, Poland, Finland, Greece, Spain and Sweden. von der Leyen said the plan would not affect crucial trade flows and citizens from the UK would still be allowed to travel to the continent.
French President Emmanuel Macron speaks during a television address in Ciboure, France. Credit:AP
The ban will not prevent EU residents from travelling from one country to another, however a growing number of countries are closing their own borders to all non-citizens.
In an extraordinary address to the nation, Macron said the country would locked down from midday Tuesday and blasted French citizens who had ignored advice to keep their distance from other people. Macron also suspended all gas, electricity and water bills, as well as rents.
"We are at war," he said.
In other developments overnight Australian time:
Another 349 people died in hard-hit Italy, bringing the total number to 2,158. Overall cases now stand at 27,890. The country is on track to exceed China's official death toll by the end of the week.
Spain closed its borders as cases surge to nearly 9,000. Russia will also seal off its borders to non-residents from Wednesday.
Germany ordered all shops, bars, clubs, theatres and museums to close. It has also shut land borders with France, Austria and Switzerland
Car manufacturer PSA Group, which produces Peugeot, Citroën and Vauxhall brands, closed its European factories.
Train operators and major airlines ramped up appeals for a government bailout amid fears of imminent corporate collapses. Airlines including Virgin Atlantic, British Airways and Ryanair slashed scheduled flights for April and May by as much as 80 per cent as the outbreak and subsequent travel bans smashes the domestic and short-haul market.
Ireland unveiled a scheme for workers affected by the crisis. The plan encourages employers to retain staff and pay them a minimum €203 per week which would then be reimbursed by the government, allowing workers retain their link with employers and avoid submitting a welfare claim.
In Britain, Johnson enacted a series of new measures, including encouraging everyone to avoid all-non-essential travel and non-essential contact with other people. He said anyone over 70, pregnant women and people with serious medical conditions should "shield" themselves from the general public for three months to avoid infection.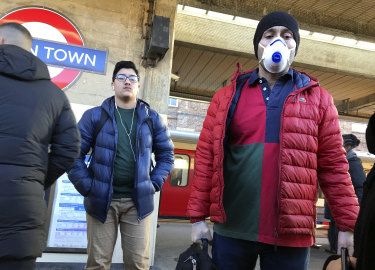 A commuter wears a face mask while waiting to catch the tube in LondonCredit:AP
In an earlier press conference, World Health Organisation director general Tedros Adhanom Ghebreyesus blasted governments for giving up on widespread testing and contact tracing as the outbreak takes hold.
In the UK, only people in hospital are able to be tested and everyone else with mild symptoms is told to say home for seven days and not call for medical treatment unless absolutely necessary.
"You cannot fight a fire blindfolded and we cannot stop this pandemic if we don't know who is infected," he said.
"Test, test, test. Test every suspected case. If they test positive, isolate them and find out who they have been in contact with. And test those people too."
British Health Secretary Matt Hancock told Parliament the UK had conducted more tests than any other major nation except China, South Korea and Italy.
Chief medical officer Chris Whitty said the public should brace for the crisis to last even longer than "months", suggesting it could stretch until the end of the year or even into 2021.
Source: Read Full Article