State school teachers and principals are pushing for a 21 per cent pay rise over three years plus 16.5 per cent superannuation, as well as significant cuts to face-to-face teaching hours and smaller class sizes.
The Australian Education Union's workplace agreement with the Andrews government nominally expired on Friday and the union said the state's "underfunded" school system is driving thousands of overworked teachers out of the profession.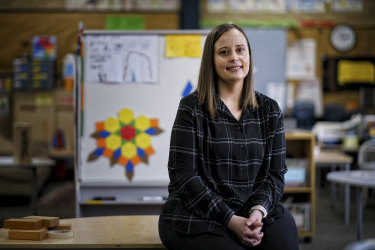 Spensley Street Primary School principal Bec Spink says teachers are badly underpaid.Credit:Luis Ascui
Victorian state school teachers work an average of 15 hours of unpaid overtime every week, while many principals work a 60-hour week, the union said.
The claims are based on a survey earlier this year of more than 10,800 government school staff.
Branch president Meredith Peace said the unpaid overtime was directly linked to the fact that Victorian government schools receive the least funding per student in the country.
"Victorian schools continue to be the lowest funded in our nation, $1384 per student behind the national average," Ms Peace said. "There is a direct connection between that funding gap and the excessive workloads that we see across our public schools in Victoria."
Excessive workload is driving four in every 10 Victorian state school teachers to consider quitting the profession, the union survey found.
Forty-six per cent of teachers said they had "poor work-life balance" due to working long hours.
The union would put teacher workload at the heart of its campaign for higher pay, Ms Peace said.
"Despite their professionalism, exhausted teachers with excessive workloads who are teaching large classes can't deliver the quality teaching and support our children need and deserve," she said.
Australian Education Union Victorian president Meredith Peace is pushing for a 21 per cent pay rise for government teachers over three years.Credit:
The union's log of claims includes a pay rise of 7 per cent a year between 2021 and 2024, double the 3.5 per cent wage rise train and tram drivers received last year and more than double the 3 per cent pay rise public sector nurses and midwives received.
Under the expiring agreement, teachers begin on an annual salary of $72,000, increasing to up to $108,000 for the most senior teachers and $118,000 for leading teachers and learning specialists.
Principals earn between $147,000 and $224,000.
The union has also called on the Andrews government to cut face-to-face teaching hours to 18 per week, down from the current 22½ hours in primary school and 20 hours in secondary school.
It has also called for a reduction in teaching hours for teachers in their first three years, arguing that those staff need more time to further develop the skills needed to teach well.
First year teachers would take classes for a maximum of 14 hours a week, down from 18 now, rising to 15 hours in year two and 16 hours in year three.
Class sizes would shrink to a maximum of 20 students at all year levels under the union's log of claims. The current maximum is 26 at primary level and 25 in secondary schools.
Grattan Institute school education program director Jordana Hunter said the job of being a teacher had grown in complexity.
"Expectations that all students can learn have increased over time, where in the past it might have been a more acceptable view that some students are not cut out for book learning or not good at maths," Ms Hunter said.
"These days we understand that with effective and targeted intervention we can help all students reach their potential, but that requires a different skill set … so the job for teachers is becoming more challenging."
Spensley Street Primary School principal Bec Spink said the survey's 60-hour average workload for principals was "conservative".
She said teachers at her school consistently worked unpaid overtime "just to do the bare minimum of what's required".
"It is a myth that teachers work 9 till 3 and it frustrates me to no end when I hear all the teacher bashing that happens in broader society," she said.
Although the current agreement has nominally expired, it will continue until a new deal is struck.
An Andrews government spokesperson said the government would not provide comment while negotiations are under way.
Start your day informed
Our Morning Edition newsletter is a curated guide to the most important and interesting stories, analysis and insights. Sign up here.
Most Viewed in National
From our partners
Source: Read Full Article