One of the biggest schools in Melbourne's west will cut back on enrolments next year despite skyrocketing demand, blaming changes to federal government funding it estimates will cost it almost $5 million a year.
Bacchus Marsh Grammar is one of Victoria's fastest-growing schools, but will cut its prep enrolments by about a third in 2022 because it can no longer afford to invest in new facilities to cater for increased demand, principal Andrew Neal said.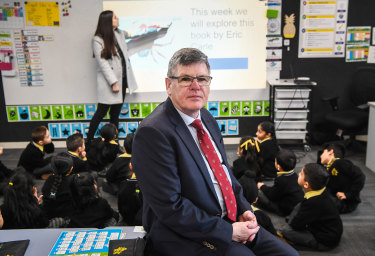 Bacchus Marsh Grammar principal Andrew Neal says federal funding cuts have forced the school to reduce its student intake for 2022. Credit:Justin McManus
Mr Neal said looming changes to non-government school funding introduced by the Morrison government last year had forced it to reduce the number of prep classes it would offer next year from 12 to eight.
"That means a significant number of families are not going to be able to get into the school of their choice, which is allegedly a primary concern of this [federal] government," Mr Neal said.
This year, 550 families applied for a place in prep, of which the school accepted 200, he said.
Mr Neal said the school of more than 3000 students is also contemplating an increase in fees to recover the cut to government funding. It currently charges tuition fees of $5465 a year from prep to year 2, rising to $10,785 in year 11 and 12.
The independent school has a campus in Bacchus Marsh and another in the new suburb of Aintree, which opened in 2019 with 650 students. A new state primary school also opened in Aintree this year with 520 students.
David Hawkins, executive officer of Interface Councils which represents 10 municipalities on Melbourne's fringes, said there was such insatiable demand for school places in the outer western suburbs that schools could not keep up.
"There are schools that were built for 500 students and they're sitting at 2000 students; there's just enormous demand and an enormous backlog in the area," he said.
The federal government's funding formula for non-government schools will change to a new model called the direct measure of income, or DMI, based on the median taxable income of parents at each school. The previous formula used the income and educational status of the suburb a school is located in.
Victoria's Catholic Education Commission lobbied strongly for the change. Most Catholic schools are poised to receive a funding boost next year.
The Principals' Association of Victorian Catholic Secondary School Principals even accused regional independent schools of using excessive federal funding to pay for superior programs and facilities and poach students.
"The decreases in funding now faced by these schools should be considered an overdue correction to unfair and damaging arrangements that have been detrimental to Catholic schools," it said in a submission to a parliamentary inquiry.
Forty-two per cent of independent schools will also be better off. But dozens of independent schools in Victoria will lose significant taxpayer funding under the new formula, with many of the biggest cuts to be felt by schools in outer suburban and regional areas.
"This funding model has a number of serious flaws with it and does selectively damage outer suburban schools and rural schools in particular," Mr Neal said.
Federal Education Minister Alan Tudge said "the Coalition firmly believes in school choice and supporting children's education regardless of which school they attend".
"Since coming to office we have increased per student funding at Bacchus Marsh Grammar from $6559 to $8980 per year, an increase of 37 per cent," he said.
A spokesperson for the federal Department of Education, Skills and Employment said the direct measure of income gave a fairer and more accurate estimation of the capacity of families to contribute to the cost of non-government schooling.
"The move to the DMI will result in an estimated additional $3.2 billion in funding for non-government schools nationally through to 2029."
According to MySchool data, Bacchus Marsh Grammar received $24.13 million in federal funding and $3.43 million in state government funding in 2019. It collected $24.23 million in school fees.
MORNING EDITION
The Morning Edition newsletter is our guide to the day's most important and interesting stories, analysis and insights. Sign up here.
Most Viewed in National
From our partners
Source: Read Full Article